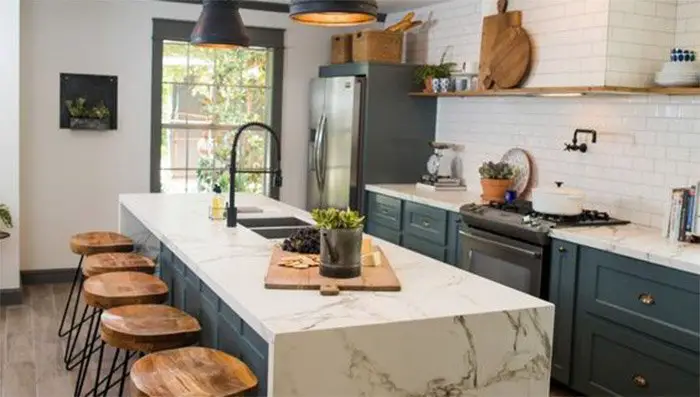 Remodelling a kitchen is always an exciting project for any homeowner to take on. With the new year fast approaching and being able to host people in our homes again, many homeowners are continuing to seek expert advice to overhaul their tired kitchens and give them that 'wow factor' for 2022. 
In this article, we thought we'd do exactly that, highlighting six effective ways to give your kitchen a new lease of life in the latter months of the year.
Choosing New Cabinets
Updating a kitchen with brand new cabinets can completely transform a space. Experiment with a pop of colour or a combination of textures that can bring your new kitchen space to life.  
Kitchen cabinets experience a lot of wear and tear, but despite this, there are plenty of choices to suit a range of different budgets. Choosing new cabinets is one of the best, and most affordable, ways to give a kitchen that wow factor you're looking for.
Choose Laminate Worktops
Laminate kitchen worktops have long been considered the best budget option, but did you know they are also one of the most popular? 
Creating a kitchen space that is on-trend and functional can easily be done using laminate worktops. A fantastic option and come in a myriad of design and colour choices. 
As kitchens are high use areas, it is important the countertops are able to withstand general wear and tear. Laminate worktops are incredibly resistant to scratching, impact, and moisture. So, they don't just look great – they stay looking great for the long-term!
Stay In The Spotlight With New Lighting
The right lighting can make all the difference to a kitchen space. So, one of the most brilliant ways to add that wow factor into your clients' kitchens is through some wallet-friendly lighting tricks.
Depending on the needs of the client, LED ceiling lights are a popular choice. Although the initial payment may be slightly more expensive than regular lights, LED's last 50 times longer than average lights, are eco-friendly and will save your clients a huge amount on their electricity bills. 
Try beautiful pendant lights above the ceiling and be sure to install dimmers so the atmosphere can be adjusted to suit the guests' preferences. 
Open The Space Up With A Kitchen Island
No matter how big or small they may be, kitchen islands add a wonderful level of sophistication to any kitchen interior, occupying the focal point and, therefore, drawing the most attention.
In 2022, natural stones like granite and marble will be extremely popular as they offer variety and beauty without compromising on durability. 
Adding a kitchen island doesn't just open up space, it also allows for more foot traffic, helps cater to more people, and improves the functionality of the kitchen space as the heart of the home.
Go Trendy With Open Shelving
Instagrammers have really set the trend for open shelving in kitchens. Not only are open shelves a great way for you to show off your collection of cookbooks, pot plants, and collectables, but they are also a stylish way to enlarge smaller spaces. 
You can have a lot of fun playing around with open shelving and being creative about its placement. After all, there are so many options; you could, for example, opt for white shelving to brighten a space or mix and match with the cabinets. 
Open shelving is so stylish it can be added near the ceiling, above the surfaces, under the benches – pretty much anywhere that will catch the eye while providing functionality.
A New Paint Colour
Sometimes, all it takes to achieve a great kitchen design and really capture that wow factor is a fresh lick of paint. Try darker shades to offset oak countertops or lighter shades to offset granite countertops. 
Whatever you do, make sure that the colour gels well with the rest of the house and can withstand the water, oil, and moisture of the kitchen. Opt for satin and semi-gloss textures for a great finish that hides those imperfections and keeps the kitchen looking great year on year.
Final Thoughts…
Designing a kitchen that creates a space everyone enjoys being in while also offering that much-needed functionality can be a tricky task, but we hope our hints and tips above have given you some inspiration. Utilising the suggestions listed above, designing a kitchen with that 'wow factor' should be easier than ever before.