Stylish bathroom heating is everywhere. Once thought of as a bit of a luxury, heated towel rails are now a staple of many homes, adding extra comfort and warmth to bathrooms large and small.
However, when it comes to choosing a bathroom radiator for your home, you need a bit more to go on than just good looks. Essentially, towel radiators are multifunctional devices that need to be able to perform a minimum of two jobs.
Are you looking for the perfect bathroom radiator to add warmth and style to your home? With so many options available, it can be difficult to know how to choose the right one for your space.
When choosing a radiator for your bathroom it is important to consider the size of the room, the location of plumbing pipes, if there needs to be an electrician in case you need a heated towel rail and whether an open system or sealed system will work best.
You should also consider your interior style priorities and choose the fixtures that fit it. Lastly, determine how much heat is needed and research radiator features – like a timer or anti-freeze setting.
How to choose a bathroom radiator
If you're looking for a way to add warmth and style to your bathroom, installing a bathroom radiator is the perfect solution. But with so many options on the market, how do you know which one is best for you?
Here are 6 steps to help narrow down your search and choose the right bath radiator:
Step 1: Select the correct radiator size
Choosing the right radiator size for your bathroom is essential for achieving an efficient and comfortable heating system.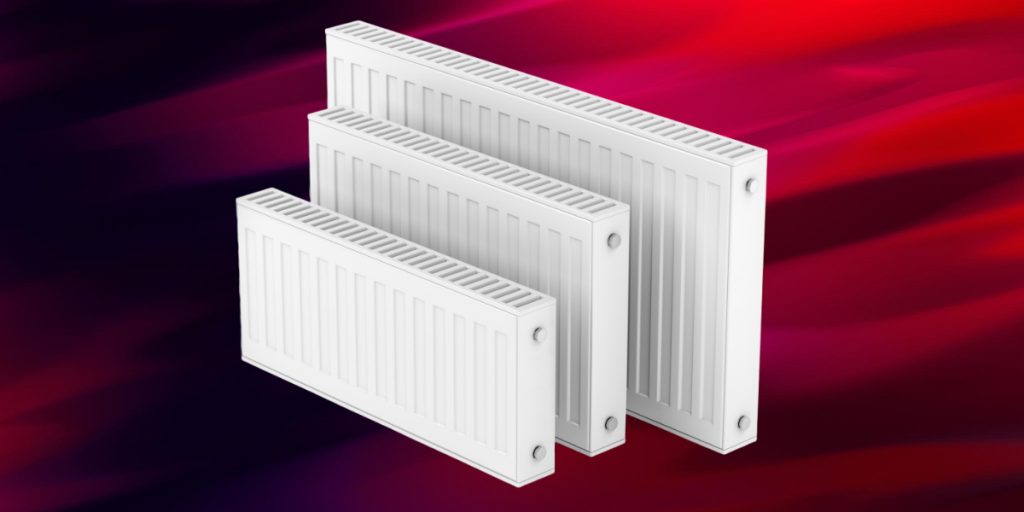 When it comes to towel radiators, size really matters. Towel radiator typically range in size from 700x400mm up to 1800x600mm, and it's important to choose a radiator that's in proportion to the overall size of the bathroom.
A radiator that's too small won't have the oomph to heat the room, leaving you with a disappointingly cold bathroom. Too large and your radiator will look odd, and cost you more than it should in heating bills. The size of the radiator is linked to its heat output.
Step 2: Select the correct heat output
As you might expect, a larger space requires a larger radiator. The BTU (British thermal units per hour) of your towel radiator determines the heat output and energy required to heat your bathroom. A higher BTU value indicates a more powerful heating output.
The calculation itself is a simple process that can be carried out using an online BTU calculator which will take into account details such as the room dimensions, the presence of single or double-glazed windows and how sheltered the building itself is. This will determine how many radiators are needed and how powerful each should be.
With the right radiator size for your bathroom, you'll be able to enjoy a comfortable and efficient heating system.
Step 3: Calculate storage requirements
While size and output are key considerations, you also need to consider your storage requirements when you choose the size of your towel radiator.
How many people use the bathroom? How does that translate into the number of towels that need to be hung up every day?
Do check that there's enough usable space between each rail to fit a bath towel.
Look out for bathroom radiators with additional storage space or shelving. As mentioned above, a heated towel rail is a multifunctional device – it should act as a space saver and can even double up as somewhere to dry clothes.
In terms of physical space, a full size towel radiator for a large bathroom is likely to take up most of the wall, while smaller towel rails can be wall mounted, leaving space for storage below.
Measure wall space for vertical radiators or towel rails
When choosing a vertical radiator or towel rail for your bathroom, it is important to measure the wall space accurately. This will ensure that you select a model that fits perfectly and provides sufficient heat.
To begin with, use a tape measure to determine the exact height and width of the area where the radiator will be placed. Additionally, if there are any obstructions such as pipes or light switches this needs to be taken into account when measuring.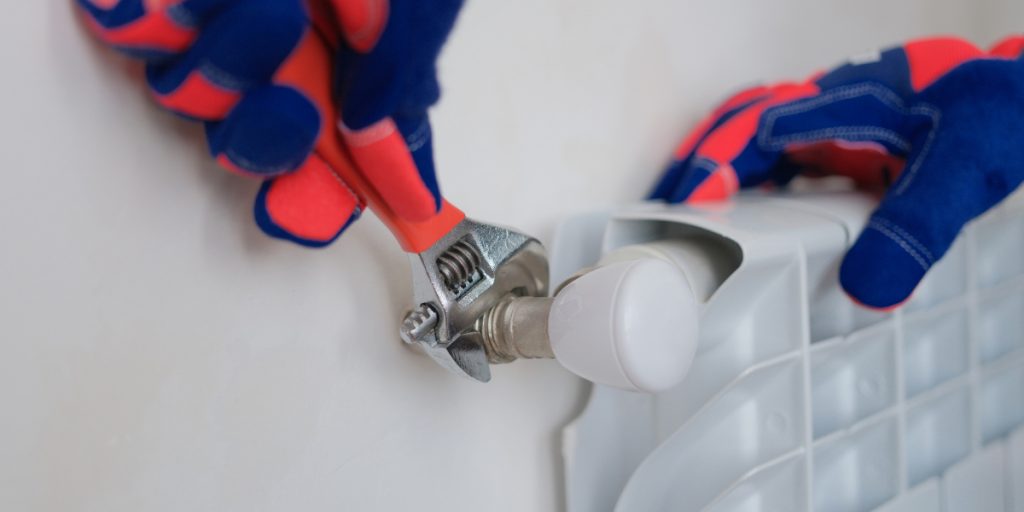 Once you have an accurate measurement of the available space, you can then compare this against the size specifications of potential radiators in order to find one that fits exactly. Remember that you'll want to leave space around the radiator for airflow, and to allow it to be correctly installed.
In some cases, you may even need to consult a professional installer for assistance with measurements and installation – particularly if the chosen radiator needs to fit into an awkward corner or niche.
No matter what size of radiator you require, it pays to take precise measurements before purchase – this way your new vertical radiator will look great and function perfectly in your bathroom.
Measure floor space for underfloor heating
When selecting underfloor heating for a bathroom, it is important to take accurate measurements of the floor space.
Noit only will this ensure that the system is correctly sized and installed in order to provide optimum performance and efficiency, it also helps you calculate the cost. The bigger the system, the higher the cost.
Measure the length and width of the area where you plan to install underfloor heating. It's common to only fit it in the central area of the bathroom where you'll be walking, there's no need to put it inside storage space.
Step 4: Gas or electric?
The difference between a fully integrated bathroom radiator and a heated towel rail is that the former is part of your central heating system, while the latter can be an independently controlled electric set-up.
Radiators will only work when the central heating is operational, meaning their functionality may be limited in the summer.
Electric models such as these are independent of your main heating system. This makes installation easier and means they can be more flexible to your demands – you can switch them on/off as and when needed.
For the best of both worlds, choose a dual fuel bathroom radiator. This allows you to run the radiator how you want, whether in tandem with the central heating system during the colder months, or electrically during the summer.
Step 5: Choose Material
Stylish bathroom radiators come in all kinds of material – from matt and polished metal to eye catching coloured materials.
The two most important considerations here are the risk of leaking and corrosion. Most central heating radiators are made from mild steel, which is an affordable option but not the best material for rooms with high moisture levels such as bathrooms.
Stainless steel offers better protection for wet rooms and steamy bathrooms, while chrome and aluminium suit most contemporary bathrooms styles.
Aluminium, in particular, has a high heat output which allows for a slimmer profile – handy as a space saving option for smaller bathrooms.
Step 6: Make a style choice
When it comes to bathroom radiators and heated towel rails, there's a wealth of product choice out there. Depending on the rest of your bathroom scheme and the size of the room, choose a radiator as a feature or focal point or have it blend into the background.
Traditional style radiators and towel rails can look stunning in any setting while reproduction period models can make a real statement in older homes.
Alternatively, there are many modern heating solutions that can be visually striking, including unusual contemporary curved or spiral designs.
Vertical radiators
Vertical radiators are a stylish and space-saving option for any bathroom. Their slimline design allows them to fit in tight spaces without compromising on heat output, making them an ideal choice for those with limited wall or floor space.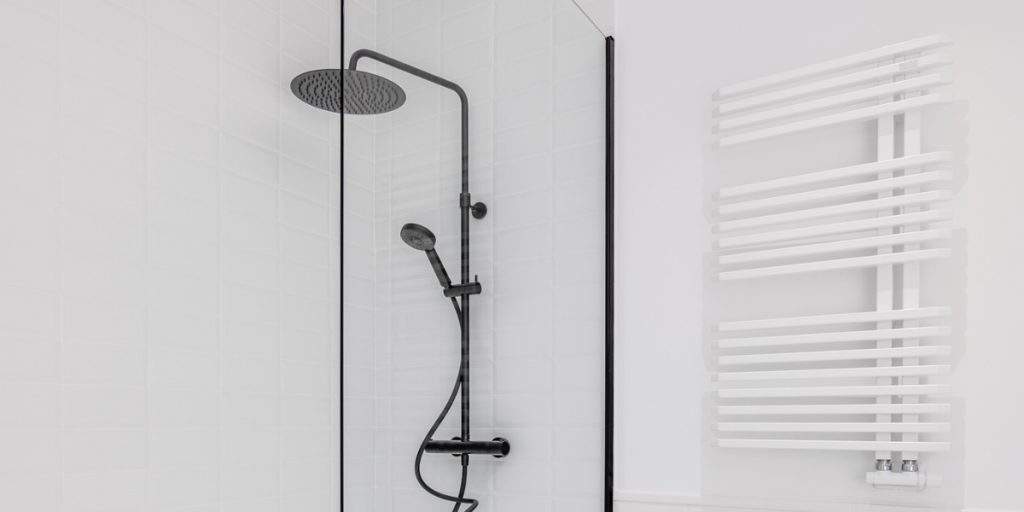 Vertical radiators come in a variety of styles, including modern and traditional designs, ensuring that you can choose something that fits in perfectly with your existing bathroom scheme.
Additionally, vertical radiators are incredibly efficient when it comes to energy use. They use less energy than traditional models, helping you to save money on your bills and reduce your carbon footprint.
Furthermore, they also tend to be quieter than other radiator types as they don't contain as many components – perfect for family bathrooms!
When selecting a vertical radiator for your home, make sure it has an appropriate IP rating for safety purposes and provides sufficient heat output for your family's needs. With these considerations in mind, you are sure to find the perfect stylish bathroom radiator for your home!
Towel rails and heated towel rails
Towel rails and heated towel rails are an excellent addition to any bathroom, providing both warmth and a stylish focal point.
Unlike traditional types of radiator, a heated towel rail is designed to allow you to hang numerous wet towels on it for drying, and to keep them warm and dry.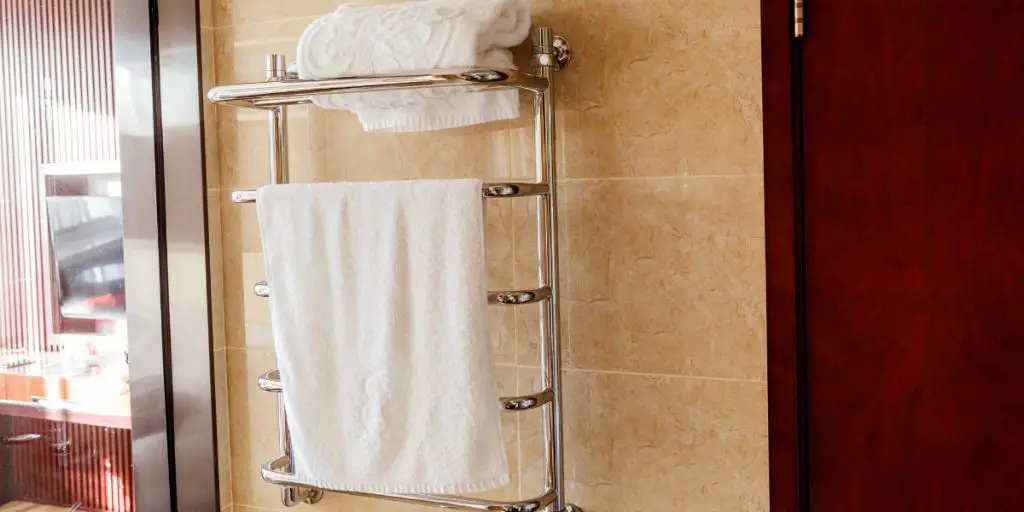 They can also double up as a radiator in colder months, helping to maintain an ambient temperature in the room.
Final Thought
In conclusion, there are many different types of bathroom radiators available to suit all styles and needs.
When choosing a radiator for your home, it is important to consider the size and shape of the room, your heat requirements, wall space and whether you want a stylish statement piece or something that blends into the background.
Finally, bathroom radiators and towel rails should always be installed by professionals , for your own safety and to avoid mistakes that could be costly to rectify later on.
If you are purchasing your bathroom towel rail from a reputable bathroom showroom, the team there may have their own installation service or be able to recommend a professional installer.
Latest posts by Mark Draper
(see all)