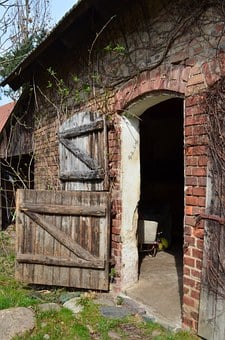 Did you know, stable doors are not just for horses anymore? In recent years there's been a big growth in the popularity of exterior stable doors and it's quite simple to see why. You may be asking yourself many questions when you're on the market to buy a stable door. How wide is this kind of door? Are they secure? How do you get one fitted?
In this article, we have given thought to all these questions and more, so if you are keen and looking to buy one for your house, your eyes have landed on the right article. 
How can you make a stable door?
This is a very popular question. But if you aren't a skilled joiner there's not much information we can give you. But even if you are a joiner, it will certainly be more affordable to purchase a door that has been built specifically as a stable door.  
How to fit one?
It's always recommended you hire a competent tradesperson who can do this for you. External doors that aren't finished or fitted correctly can be quick to swell or become distorted. Not only can this be very expensive as a homeowner but it can be dangerous if your front door happens to jam and can't be opened. 
Qualified joiners will be able to give good advice on how to fit external ironmongery, weather bars, and door jambs, and all other things you need when fitting stable doors. 
Are they secure? 
This also is a very important concern. We all like the thought of having a solid strong door erected between us and the rest of the world when we go and sleep at night. But you may be wondering how secure a door can be when cut in half.  
To guarantee the fitting of your stable door externally you can ensure that a certified multipoint locking system is installed on both sides of the door, at the top and bottom, thus doubling your measure of security.  
Buying a solid door made from oak or pine across uPVC will enhance your home's security because these doors are a lot stronger compared to most. Additionally, they are also thermally efficient.  
Which is the best kind of stable door to buy?
There are many kinds of stable doors for your house. The best kind largely depends on your taste and your home's present interior design.  
The most well-known style of stable doors are those made from oak and wood in most cases, some have a little glazing in the top half of the door. This style almost looks like a conventional stable door, which may be the reason why it's so popular. 
These kinds of traditional doors can intensify the authenticity of old cottage homes, without needing to compromise on heat retention or security. But this is not to say you need to go for a traditional-looking door if your home is modern. You can consider adding a statement color to your current door to modernize it. Perhaps you can add grey with a chrome knocker and matching letter plate or black with gold ironmongery so that you truly make the door your own.