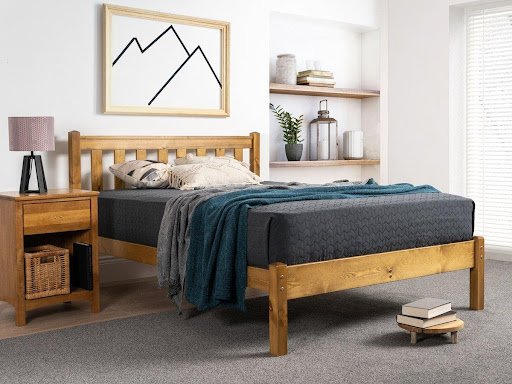 Preparing your home for sale can be overwhelming. Where do you even start? 
Thankfully, your estate agent should give you a checklist for preparing your home for viewings. It'll look something like this:
Clean every room

Remove broken furniture 

Replace frayed carpet 

Give rooms a lick of paint

Fill holes and make repairs

Remove signs of pets 

Declutter

Tidy up with storage boxes

Maximise visual floor space 
Unfortunately, most estate agents don't tell you that bedrooms play a crucial role in selling your home, so what most people do is tidy everything up with little thought for the bedroom layout and how it feels inside.
Your bedroom is important when selling your home because it's a personal space where people spend most of their time.
Bedrooms are where we relax, sleep and get dressed, so prospective owners need to imagine themselves there. How does your bedroom appear to other people? Is it a welcoming space? What vibes does it give off?
The ideal bedroom is clean and has visible floor space, minimal furniture, tidy electronics, and good storage. While the new buyer won't inherit your furniture, it does give them an idea of what their stuff will look like.
Here are some top tips to prepare your bedroom for viewings:
Get the basics right 
If all you do is paint your bedroom and declutter it, you'll be well on your way to creating a bedroom people love. Here are the basics to get right:
Clear all clutter, including clothes not hung in wardrobes, televisions, electronics, games and ornaments.

Fill holes and make simple repairs to cracks in plaster and separations between any door frames and walls.

Neutralise the walls with subtle shades, like white, off-white or pale pastel colours. Keep the ceiling white.

Clean the floor thoroughly. A deep wet clean will pull up more dirt than you ever thought possible if you have carpet.
Staging furniture 
Furniture makes or breaks a bedroom. The key is to use the bare minimum and maximise floor space with smart furniture choices.
You don't need much furniture. All you need is a bed, a chest of drawers and a wardrobe. A bedside table is optional. 
If you need more furniture, make it as small as possible. Narrow furniture is an excellent choice if floor space is limited. 

If your bedroom is a double, prove it! Double bedrooms add value so always use a

double bed

when you can. 

If your bedroom is too small for a double, it might be big enough for a small double.

Furniture should be all the same colour. Mismatched furniture looks odd and gives off a chaotic vibe. 

The placement of furniture should maximise floor space and create a path for people. For example, you can walk around a double bed in the middle of your bedroom. Push furniture against the wall.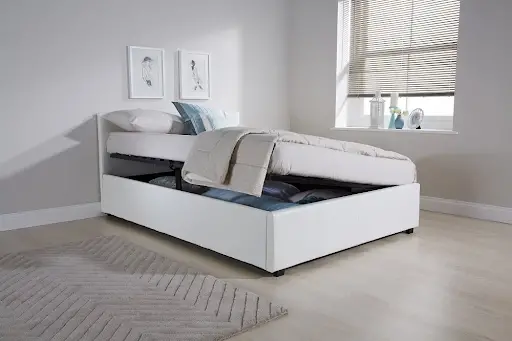 Pictured: Milan Bed Company Side Lift 4FT Small Double Ottoman Bed – White (£249 available now from Bedstar)
Maximising storage 
Use dual-purpose furniture, like a storage bench or a footstool with storage. 

Get an ottoman bed. Ottoman beds have a lift-up base with hydraulic struts, giving you all the space you need for bedding and shoes. 

Get a bed with built-in drawers. 

Add an extra chest drawer or two with a taller, narrower chest of drawers to increase floor space while adding storage. 

Make good use of stackable plastic storage boxes, but make sure they are out of the way when people come to view your house. 
Overall
Bedrooms play a crucial role in selling your home to prospective buyers. Like kitchens, bedrooms thrive on space and utility. People want to imagine themselves getting dressed and unwinding after a hard day. 
The most important thing is maximising floor space cleverly with items like dual-purpose furniture and narrower, taller drawers. Double bedrooms are also worth more, so try to fit in a double bed or small double bed whenever possible.