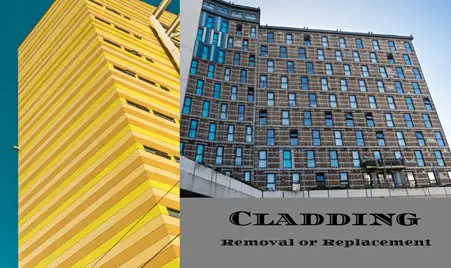 Cladding Removal or Replacement
Do you need to remove your cladding for EWS1 compliance? Have you considered replacing it with something else?
With the government issuing fresh guidelines on external wall cladding systems by the month, it's no wonder some of us are confused. The rules on which buildings require EWS1 compliance and which do not are constantly changing, leading us to doubt. There can be no denying that those of us who are affected by the Cladding Crisis are having issues.
What is the Cladding Crisis?
The cladding crisis is a term coined by the British media to describe the failures to review exterior wall cladding in building safety assessments, prior to Grenfell Tower. This disaster killed more than 70 Brits back in 2017 and has sparked international debate over safety guidelines about the outside of buildings.
The government were forced to pledge millions to cladding remediation on buildings throughout England which have fault, combustible cladding on them. They have set aside a multi-million pound fund for those affected, although individual property owners need to claim for the fund. Cladding must be checked using an EWS1 form and by an officially qualified inspector. There is a lack of inspectors and there is a lack of availability for those that qualify for grant funding to have cladding removed.
It is going to take years to clean this mess up, and that's why we consider it a crisis.
Should I Have My Cladding Removed?
If you live in a building that is over 5 storeys high, or in any building which has ACM cladding, then yes. Having cladding removed is the only way to achieve compliance. If you do not achieve compliance with the EWS system, you will not be able to sell your house. Lenders will value a property with faulty cladding as worthless, meaning you won't be able to attract buyers.
If you have ACM cladding, cladding remediation is your best option. The question is: should you remove your cladding and leave it at that? Or should you remove and replace your cladding using an expert? ASD Build replace cladding throughout England should you need a specialist firm.
How Do I Tell if I Have ACM Cladding?
If you have cladding on your building, then you are immediately at risk. Call in the experts or petition the building's owner to have EWS1 form compliance carried out. An inspection will tell you whether it is EWS1 compliant or not. If not, it will have to be removed. If it is compliant cladding, you will be clear for five years, when the matter is revisited.
Do I Want to Replace Cladding?
If your cladding must be removed, the next question you are faced with is whether you want to replace it. Cladding isn't just added to buildings to improve curb appeal, it has multiple benefits which you may need.
The benefits of cladding include:
Energy efficiency – cladding gives an extra layer against the elements.
Thermal regulation – it helps keep you cooler in summer and warmer in winter.
Protection – cladding protects your building against exterior damage to brickwork.
Aesthetics – it does look better than bland stone.
Structural integrity – buildings with cladding are better protected from cracks and earthquake damage.
If you are a building owner, cladding your building makes sense. It will reduce your energy costs and make your investment last longer. If you are an individual leaseholder, it might not be possible to clad only your block. Consult the experts for advice.
Cladding Removal Vs Cladding Replacement
Cladding removal is necessary to ensure you are EWS1 form compliant. However, whether you decide to replace that cladding or not is up to you.