While most people consider a real estate agency the best way to buy or sell a property, auctioning has become quite popular recently, especially here in the United Kingdom. Using an auction to buy or sell a house can be quite advantageous, especially for certain types of properties, but it may come with its own issues.
Properties can go to auction because the process may be more advantageous since it takes less time and is less complicated than selling or buying via an estate agency. Buyers can get a better price and less pressure, while sellers can sell properties that would otherwise be difficult to sell.
In the rest of this article, I will discuss why it might be a good idea for a property to go to auction. Moreover, I will provide advice on how to buy or sell properties this way.
Is Buying a House at Auction a Good Idea in the UK?
Many only consider auctioning to sell high-value or luxury items, like expensive paintings, jewellery, or rare documents. However, auctioning is an underappreciated way of buying and selling properties.
Buying a house at auction can be a good idea, primarily because it is the most straightforward way. For someone on the market for a house, buying a property at an auction might seem a bit too hasty, but there are other advantages to this method compared to the real estate agency route. 
There are several reasons why you should consider auctions to buy properties rather than go to estate agencies:
You May Avoid Lengthy and Costly Procedures
If there's one thing everyone can appreciate about auctions is that they're very straightforward. A property comes up, potential buyers make their bids, and once the hammer is down, the highest bidder is bound to a contract. This process is much more brief and simple than going through multiple procedures and bureaucratic red tape with a real estate agency.
Even during a modern auction, which lasts about 28 days, you still manage to save time and money compared to other ways of buying a property.
You May Get a Better Price
Generally, when a property comes up for sale in an auction, there's a starting price typically lower than its market value. Depending on how much you and other people who are interested bid, you may be able to save a significant amount of money. As a result, an auction can allow you to purchase properties at a lower price than what you would pay using a real estate agency.
A lot of buyers may be put off by a significantly lower starting price since they assume that something must be wrong with the house. This is not necessarily true; sellers start with a very low price to get as many people interested as possible. The more interested buyers there are, the more bids there will be, increasing the property's price.
If you're lucky, you can place a bid that is still lower than the market value and get a good deal on a valuable property. The fewer bidders there are, the higher your chances. However, the opposite can also happen, and you may end up bidding much more than anticipated in an attempt to buy a property that you particularly like.
There Is No Time Pressure
When you're looking for a house using a real estate agent, you're constantly aware that you need to make an offer for a house you like as soon as possible; otherwise, someone else might as soon as you leave. This is a significant disadvantage because you may feel pressured to make an offer even when you're not entirely sure that you want the house.
With auctioning, there is no time pressure of the sort. If other people are interested in the property being auctioned, they will bid at the same time as you, and you will be aware of their bids at all times. You don't have to be worried about being the first to bid or make a hasty decision.
No Risk of Last Minute Issues
Another great disadvantage of buying a house the "traditional" way is that deals do not always go through. If there is a slight delay, miscommunication, or a change of heart, you may lose the house that you thought was yours. 
At an auction, once you place the highest bid and the hammer goes down, the house is yours, and nobody can take it from you. Of course, this also means that you cannot change your mind and give it back without paying for a contract breach, but this is something you should consider before entering the auction in the first place.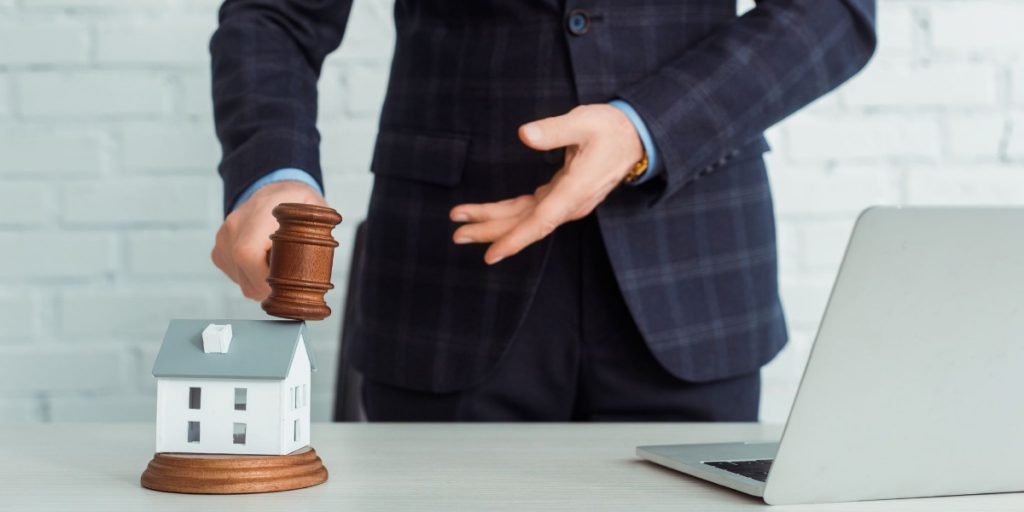 How To Buy a House at Auction
If you're a first-time buyer, you should ensure that you know everything there is to know about buying properties at auction. This includes several steps you need to take before, during, and after the auction.
Before the Auction
Before you start looking for properties to buy, you need to learn as much as you can about the auctioning process and all the available options.
Contact an auctioning agency. Search for such agencies in your area, view their credentials and catalogues, and contact them to ask questions about the process and the properties you're interested in.
Examine the catalogue. Typically, you should get a catalogue of all the properties going to auction a few weeks before the auction takes place. In the catalogue, you should see all the houses and their guide price; be aware that the guide price may change on the day of the auction.
Register for the auction. This process doesn't bind you to any contract. It's simply an online registration that allows you to take part in the property auction.
Arrange for a viewing of the house. Contact the auctioning agency or the auctioneer to arrange a time and date for you to take a look at the property or properties you're interested in. 
Make sure you have the means to enter the auction. You could either buy in cash or get a mortgage in principle, so either ensure that you have all the cash you need or take out a mortgage in principle before the auction so that you're ready to buy immediately.
Read the legal pack carefully. The auctioneer will provide you with a legal package that will include information about several important aspects:

The seller 
The leasehold 
Conditions of the sale
The general condition of the house 
Title deeds
Local authority appraisements
Environmental appraisements
Don't hesitate to speak to a solicitor or someone with knowledge of these procedures to ensure you're not missing anything.
The Day of the Auction
When the big day arrives make sure to take these steps:
Prepare the necessary documents. You should ensure you have everything needed to complete a purchase, including an ID, information about your solicitor, and proof that you can pay the deposit immediately.
Be early. If the auction is taking place in person, you should get to the auctioning room as early as possible in order to get a front seat so that the auctioneer can see you better.
Make your bids. Once the auction starts, keep calm and make your bids as you intended. 
After the Auction
If you have successfully bid for the property of your choice, you will need to sign the contract and pay 10% of the agreed price immediately.
You will have 28 days to pay the rest, but if you can't find the money until then, you will lose the property and the 10% you already paid, not to mention incurring other potential fees and interests.
In case the property is not sold during the auction for some reason, you can still have a chance of buying the house or property by making a private offer after the auction.
Extra Tips for Buying a House at Auction
Be observant while viewing the house. During the viewing, have a handyman or a builder come with you; they should tell you what condition the house is in and what can be done in terms of repairs.
Make sure you're informed; ask questions and read the small print. There's no going back after you place the winning bid, so you must be 100% sure that you want the property.
The guide price may change. Don't assume the guide price in the catalogue is the real starting price; be prepared to pay more if needed. 
Keep calm. Don't get caught up in the moment and try to outbid someone if that means you will go over the budget.
Why You Should Consider Selling Your Property at Auction
If buying a property can be such a good deal for buyers, why do sellers consider this method? Do they have something to gain too?
Reasons Why Selling Your House at Auction Might Be a Good Idea
Understandably, auctioning can benefit both parties, which is why many sellers consider auctioning instead of an estate agency. A significant reason why sellers choose auctioning is to avoid the lengthy, costly procedures that come with selling a house using real estate agencies. 
The property at an auction can be sold in one day if there are bids; even if there aren't any, there is still the possibility of private offerings, as I explained. This quick procedure is especially attractive to people who have no time or patience to deal with other ways of selling their properties.
The nature of the auction can also be beneficial to the seller. In a typical real estate agency sale, a buyer can withdraw at the last moment, and there is not much that the seller can do if there is no contract. In contrast, the seller can be sure they will receive the payment once the hammer goes down.
Moreover, the sellers can set a reserve price and a guiding price before an auction, which ensures that they won't have to sell their house for less than what they want. Of course, there is the risk of nobody bidding for the property at the set price, but it is a risk that sellers need to consider beforehand.
Finally, you may be lucky to sell your property to a cash buyer or simply request cash buyers only, which means you won't have to deal with mortgage procedures. As a result, you will be able to sell the house much more quickly and easily.
What Properties Are Sold at Auction?
 Here are some types of properties that are more suitable for auctioning than others:
Repossessed buildings from people who have failed to pay the mortgage or property taxes; banks prefer auctioning to sell the house quickly.
Non-standard properties, meaning properties with distinctive or uncommon structures or elements or houses that are not built according to typical standards.
Buildings with construction and planning issues would otherwise be incredibly hard to mortgage.
Houses with owners who have died intestate, meaning houses where the owner has died without leaving a will.
Properties with tenants, which are generally not easy to sell since people look for vacant houses.
Inherited houses, whose owners are not willing to deal with the lengthy and time-consuming procedures.
How To Sell a House at Auction
Find an auction house. Like a buyer, you also should look for a good, trustworthy auction house.
Set the reserve and the guide price. The reserve price is the absolute lowest you can accept for your property, while the guide price is the price that will be disclosed to buyers to convince them to bid. Keep in mind that the guide price can be changed.
Decide between a traditional or a modern auction. The traditional auction is held in person, with an auctioneer and bidders competing in real-time in the same room. The modern auction is held online, and buyers have several days to bid against one another.
Make the potential buyers aware. In order to make sure that there are bidders, publish the news about your house being auctioned in different forms.
Hold the auction. Make sure everything is in order and wait for the biggest bid. If there aren't any, you can accept private offers from people interested in your property.
Conclusion
Auctioning properties is becoming more and more popular in the UK, as it can be beneficial to both buyers and sellers. The most important advantage for both sides is that the process is much quicker and avoids lengthy and costly procedures. Moreover, the process avoids last-minute issues and backouts.
Sources
Latest posts by Alec Hanson
(see all)