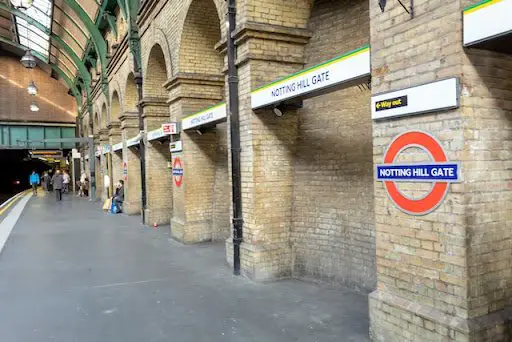 After the 1999 release of the romantic comedy of the same name, Notting Hill gained popularity all over the UK. But the neighbourhood is much more than just a movie location; it is also one of the trendiest areas of London, home to amazing restaurants, bars, designer shops, and, of course, Portobello Road Market which according to estate agents in Notting Hill makes it a most sought after neighbourhood. 
The market is a shopper's paradise because it offers just about anything you can imagine, including fresh flowers, pastries, and antiques. The market, which is two miles long and can take several hours to properly appreciate, is the ideal way for many people to spend a Sunday morning.
Notting Hill is lovely on its own, with lovely cobblestone streets, charming Victorian buildings, and immaculately maintained British gardens. You're always likely to spot a star or two there, and it's a really nice place to spend time. Many varied people, including some famous ones, call Notting Hill home, from trend-setting college students and young families to City professionals and multinational businesses.
Notting Hill continues to be one of the most populated neighbourhoods in London despite the fact that people relocate there for a variety of reasons. In order to make your move to Notting Hill as stress-free as possible, this guide will present information about what it's like to live there as a local:
How Notting Hill Got Its Start
Notting Hill's past has been tremendously diverse and occasionally tumultuous. The area was rural with minimal development before the 1820s. Property developer James Ladbroke, the namesake of the adjoining Ladbroke Grove, purchased it and started building a posh neighbourhood for affluent bankers and businessmen.
A renowned hippodrome was constructed during this time period (in 1837, to be exact), and this, together with the new housing, drew numerous artists and writers. This indicates that authors like Thomas Hardy and Arthur Machen have included Notting Hill in their writing. Conditions eventually improved as a result of numerous gentrification and development initiatives in the 1970s and 1980s. Along with the establishment of vibrant immigrant populations came tourist destinations like the Portobello Market. The 1999 movie, which encouraged an increase in tourism, was the cherry on top of this.
After years of failure, Notting Hill ultimately succeeded in drawing the affluent Londoners for whom it was built. The wealthy came back, and the multi-occupancy residences were converted back into single-family dwellings. Notting Hill is currently one of London's most expensive neighbourhoods to reside in.
Prices and types of homes in Notting Hill
Beautiful homes and wide public garden areas can be seen in Notting Hill. If you're fortunate enough to find one for sale, the garden squares in particular have a consistently high value of at least £5 million. There are also a lot of flats in the region since landlords buy up multi-level properties and convert them for the most profit. There are also new constructions that offer properties at different pricing points. Recent construction projects including Portobello Square, Leinster Square, Linden Gardens, and Westbourne Park Villas all provide a variety of property styles for potential occupants.
Economic Situation in Notting Hill
One of the wealthiest boroughs in London, Kensington and Chelsea, contains Notting Hill. Head offices of major organisations and emerging smaller enterprises are drawn to the area because it is so close to the City of London. Although there are still certain areas that have chances for development, overall it is a well-developed area. Personal services, medical services, real estate, hospitality, and retail are the most well-known business categories and industries in the region. Thanks to the market and the movie, the tourism sector also generates a lot of revenue. Gift shops and welcome centres for the well-known romantic comedy are always hiring, especially during busy times and seasons.
Getting around Notting Hill
Because of its proximity to downtown London to the west, Notting Hill is well connected to the rest of the city. Ladbroke Grove and Westbourne Park are on the Hammersmith & City and Circle lines, while Notting Hill Gate and Holland Park are on the Central Line. Zone 1 includes Notting Hill Gate, whereas Zone 2 includes everything else. Sloane Square, Victoria, and Vauxhall are all accessible from central London via a number of bus routes. Access to the M40, a direct route to Heathrow, is convenient for drivers.
Stores and restaurants in Notting Hill
Moving to Notting Hill, one of London's trendiest neighbourhoods, will introduce you to a multitude of stores and eateries. The locals have little trouble locating upscale boutiques or an eclectic mix of places to visit for lunch or dinner.
At the casual midday restaurant Andina Picanteria, savour a contemporary take on traditional Peruvian picanteria while choosing from a fun-filled menu of delectable snacks. There are many flavorful foods to choose from, including some of the best ceviches.
Shops in Notting Hill. Pick your favourite when it comes to purchasing the newest fashions. There are numerous tiny boutiques in Notting Hill, including Paul Smith.
To relocate to Notting Hill
It is simple to understand why Notting Hill is one of London's most well-liked enclaves. The W10 and W11 postcodes have something for everyone, whether you're looking for top-notch entertainment or cultural activities.
Latest posts by Julie Hanson
(see all)