Floating docks are the docks that do not rest on wood planks or wooden pilings. They float on the water and provide a sturdy platform. They are best for those water bodies that experience fluctuating water levels. The floating docks are placed in the middle of the lake and the pond and used as a platform for swimming and fishing. It is also used to add an additional walkway on the water bodies.
They are very easy to install, adaptable and durable. They are more advantageous than stationary docks as they can be used for any type of water conditions where the water fluctuates frequently. Unlike the fixed docks, the floating ones can be anchored in any kind of water body and can get attached to any existing place or structure. You can easily remove or install the portion of the docks as per your requirement. This adaptability is a remarkable feature that adds an advantage to the floating dock.
One of the most important uses of a floating dock is that it works as a walkway or pathway from the shore to the boat. If you have your home near a waterfront, then the floating dock will be a great thing for you as it will work as a great walkway and add additional solid property. It can also work as a fishing platform or be used for industrial use. It depends upon your requirements as it is highly versatile.
Plastic docks are one of the most used docks as they are highly affordable, and their adaptability is commendable. You can buy plastic floating docks from any company, but you must buy them from the best manufacturers to get the best quality and durable docks.
The further article will help you know more about the advantages of floating docks and how they can be helpful for you, no matter if you are using them for commercial or residential use.
Some of the significant advantages of floating docks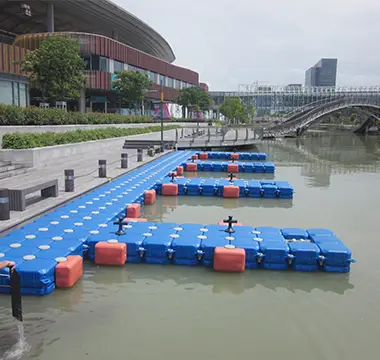 If you are buying something, you must know how advantageous it is and how much it will help you in future. There are many factors that must come along with the purchase, such as durability, adaptability and elasticity and more. Many advantages include:
Versatility:
Plastic floating docks are highly versatile in comparison with stationary docks. With so many options to customize, the buyer of the owner can tailor the docks to meet their requirements and preferences. You can easily add, remove according to your ease. They are highly versatile as they can work for any type of condition, whether you are using them for industrial use, swimming, fishing platforms, or just for any home use. They work efficiently in both high and low water levels.
Easy expansion:
Usually, the tight space projects find plastic floating docks very convenient as they provide a high opportunity for expanding the area. Especially the marinas choose the floating docks as they increase the boat capacity. The waterfront industries or properties can use floating docks to avoid the chances of obstructing views or to access their operational activities with ease. The industries require many types of equipment to work, and from valves to different machines. You can use a china electric actuator valve for your industrial activities.
Affordable and quick installation:
Owners and builders usually go for plastic docks because they are easy to install and come at pocket-friendly rates. The businessmen who have their businesses near water bodies like restaurants, boating facilities usually go for floating docks as they are cost-effective and can easily be customized according to their preference.
Easy and Low maintenance:
The floating docks have really low maintenance. They are usually made of plastic and polyethylene that do not require painting and staining, making the floating dock less expensive than the usual stationary docks. They do not require services or maintenance frequently; this makes them a perfect dock for any activity.
Maintenance is a significant factor that attracts the customer towards the floating docks. It might be a little hard for you to frequently invest a lot of money on your dock to increase the durability and life of the dock.
Conclusion
The floating docks are an effective and efficient way of adding a sturdy and strong platform. If you have a company or business near the waterfront, then there are many things that you should keep in mind and many things which you may want and one of them can be packaging material, and for that, you might need non residue tape and many more. You should get all the materials from trustable and good companies that assure you the guarantee and durability of the dock or any kind of material you are buying so that you don't have any disappointments in the future.
Latest posts by Julie Hanson
(see all)