The latest trend in the tiny house movement is to live in shed homes. Either existing sheds are converted into a granny flat, or a shed is constructed from scratch to be used as a small house or guest room.
Shed homes can be used as an art studio or to spend time with family. It can be used as a man cave or a she-shed, a reading nook, a yoga studio, or a separate house in your backyard.
If you're thinking of building your own shed house, here are some design ideas to get you started.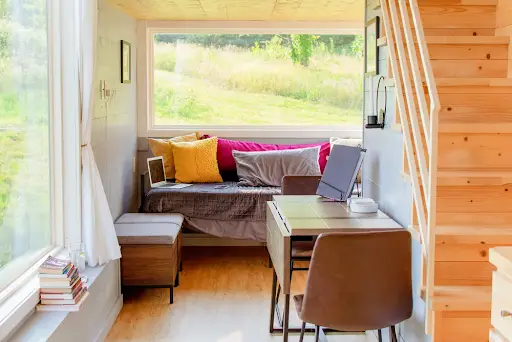 10 Design Ideas for your Shed House
You do not have to be an interior design expert to create a comfortable and beautiful shed house. Simply consider some of our ideas below for inspiration.
Construct Separate Rooms
If you think living in a shed house means you only have one large space, you would be wrong! If you are tackling a new build, you can construct your shed house to have separate spaces – like a loft area for sleeping, a bathroom, and even an outside deck.
Go Green
If you have the space outside, construct a small vegetable garden with which the whole family can get involved. Are you lacking space inside the shed house for plants? Why not hang flower boxes from the windows?
Whether large pot plants or small succulents, bringing plants inside your shed house will instantly make it feel more inviting and homey.
Make Use of Windows
To save money on electricity, take advantage of natural light in your shed. Installing plenty of windows of different shapes and sizes will transform your shed house into a place you want to live in.
Windows are also great for cooling down the house on a hot day or allowing sunlight to warm up the space during winter.
Install a Skylight
If you have run out of wall space or need to use your walls for storage, installing a skylight is an excellent way to flood your shed house with light from outside. A skylight above the bed will also make for excellent stargazing.
Use Storage to Your Advantage
There are plenty of smart storage solutions available on the market. You can use your stairs as drawers or shelves if you have a loft.
Drawer organisers will help you maximise the space available to you. You can also use hollow benches for additional storage or hang hooks on the walls to not clutter up floor space..
Get Bold With Paint
It may be tempting to stick to natural colours in your shed because of the wood used in the design. Don't be scared to get bold with bright colours inside the shed house.
You can paint a feature wall, paint kitchen cabinets, or even paint the ceiling for a different take on interior design.
Use Your Vertical Space
Shed homes are mostly small, so you will have to use the available space. If you do not have a lot of floor space in your shed, look toward the walls!
Install floating shelves, hooks and wall cabinets to free up space. Hanging plants and paintings at eye level will give the house a larger appearance and will also make your shed house look beautiful and uncluttered.
Don't Forget the Floor
The floors of your shed home might only be concrete slabs or wooden slats, but that does not mean you have to leave it bare.
You can create a cozy space by utilising rugs or runners throughout the shed. You can also use rugs to delineate different areas of the house if you do not have separate rooms.
Go for Furniture With Multiple Purposes
If your shed house is small, you should get furniture that serves many functions. Sleeper couches, foldable tables and benches that double as storage chests are readily available, or you can use your DIY skills and build multi-use furniture yourself.
Keep It Simple
A shed house aims to save space and money. Sticking to minimalistic design ideas is the way to go if you want to enjoy your life in your shed home.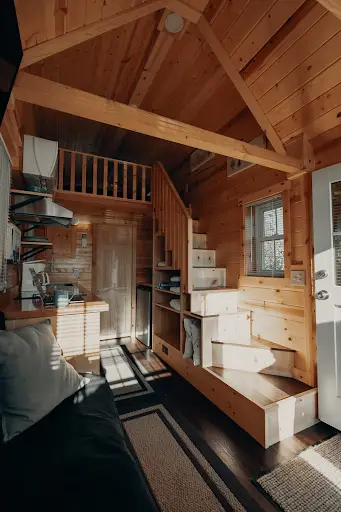 Final Thoughts
Building a shed house or converting existing sheds into liveable spaces can be a fun and exciting challenge. We hope that the design ideas above have inspired you to construct and decorate your dream shed home.