The UK property market is at a turning point as 2024 draws near, negotiating changes in regulations, inflation, and borrowing options. Investors, sellers, and potential buyers are all keen to learn how these changes may affect the real estate market in the UK in the future. The picture is still uncertain because of rising property prices, rising mortgage rates, and upcoming policy revisions.
Before we delve into the key insights and predictions for 2024, let's briefly reflect on the state of the UK property market in 2023.
Find a comprehensive analysis of the 2023 housing market in the UK.

This historical perspective will provide valuable context for the trends and shifts we anticipate in the coming year.
In this article, we examine the variables that are presently impacting the real estate market and examine the patterns that analysts anticipate in 2024. Find the impact of the economic shifts on sales, lettings, and new homes, along with the essential insights you need to make informed decisions about your property investments.
Whether your goal is to invest, purchase, or sell in the UK real estate market, our Property Market Predictions for 2024 will give you important insights to help you deal with the shifting landscape. We provide a preview of the UK property market's future and what to expect in the upcoming year, so read on for a thorough knowledge of what's in store.
The Current Landscape:
The UK real estate market is in a state of upheaval as we look to the future, with a number of factors shaping its course in 2024. To get a better idea of what the UK real estate market might look like in the upcoming year, let's dive into the experts' key findings and insights.
House Prices: A Gradual Decline Is Anticipated
Over the period of 2024, UK house prices are expected to decrease by 2%. The impact of higher mortgage rates in recent months has been attributed to this fall, which follows a period of rising prices. Even if the market can seem expensive by historical standards, it is expected that future buyers will be able to afford homes more easily if house prices decline in conjunction with higher salaries or lower mortgage rates. In turn, this ought to increase sales and encourage new entrants into the market while pricing remains competitive in light of the changing circumstances.
Mortgage Rates: A Slow Road to Improvement
Experts anticipate that mortgage rates will rise, and it won't be until the latter half of 2024 before they return to the more advantageous 4.5% level, according to Zoopla. This implies that actual increases in the affordability of housing will mostly depend on people's capacity to raise their income and purchasing power. In 2024, rising salaries are expected to be the main factor propelling a surge in home sales. 
Housing Stock Levels and Market Trends
With more houses for sale than at any point in the previous five years, the UK housing market is undergoing a change in dynamics. Setting competitive prices is necessary for sellers to draw in serious customers and maintain pressure on pricing. The decline in house prices is now occurring throughout England, not just in the south. No regions are currently seeing significant drops of more than 5% in prices, even if several markets are seeing minor annual dips in prices. However, experts forecast that when sellers modify their pricing tactics to account for diminished purchasing power, the number of regions reporting 5% price cuts may rise in 2024. Despite these modifications, there is little chance of a significant drop in prices, and efforts to increase home affordability in order to boost sales are now the main focus. 
Recovery Projections
Well-known lenders like Santander and Lloyds have shared their market outlooks. According to Lloyds, the UK housing market will likely continue to decline in 2024, with growth beginning in 2025. Santander forecasts a fall in 2024 as well as a possible slight rebound the following year. According to these forecasts, it can take some time for the real estate market to stabilize before experiencing notable expansion.
Real Estate Market Forecasts: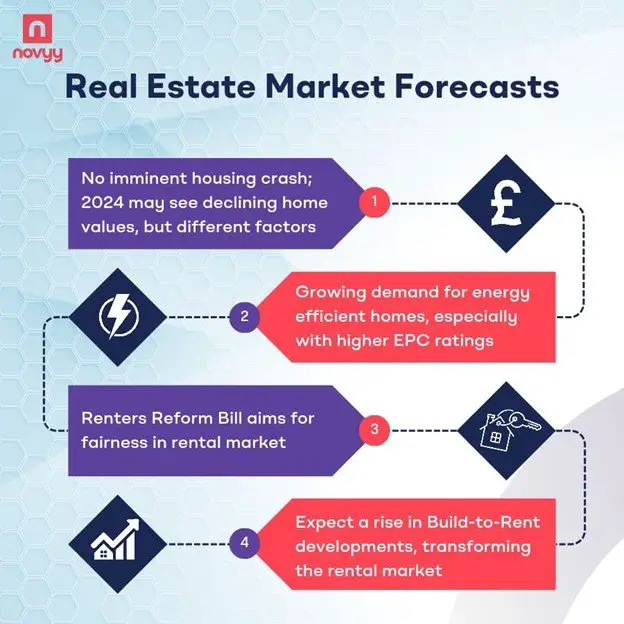 Predictions for Property Sales
No Housing crash: Experts tell us that a housing crash is not imminent, despite the possibility that home values will decline in 2024. Factors contributing to the 2008 crash, like unregulated markets and excessive consumer debt, are not prevalent.
Energy Efficiency Is Important
Among investors and homebuyers, energy efficiency is becoming more and more popular. Investors are seeking homes with ratings of C or higher because of new laws aimed at requiring better EPC ratings by 2025.
Forecasts for Rental Properties
The Renters Reform Bill, which Parliament is currently debating, aims to make the rental market more equitable for both landlords and tenants. It might make periodic tenancies the norm and give landlords more authority over bad renters.
Rise of Buy-to-Let Fractional Ownership: A New Category
Buy-to-Let Fractional Ownership is an emerging trend in the UK real estate market, allowing multiple investors to collectively own a portion of a property. This innovative approach provides more accessible entry points into property investment, potentially attracting a broader range of investors and reshaping the dynamics of the real estate industry in the UK.
Rise of Build-to-Rent (BTR)
Build-to-rent developments are predicted to soar in 2024, with significant deals and investments changing the rental market.
New Home Forecasts
Strong educational institutions, burgeoning employment opportunities, and vibrant cultural scenes are some of the factors driving Coventry and Manchester's robust housing demand. In Coventry, the upcoming UK City of Culture 2021 designation is expected to fuel interest in the city, while Manchester continues to be a thriving business hub, attracting young professionals and families.
Birmingham's Revival: With ambitious plans for redevelopment, enhanced connectivity, and job creation, Birmingham is poised for a metamorphosis that will attract real estate investors.
In Summary
The UK real estate sector is expected to have difficulties in 2024 because of persistently high mortgage rates and a projected slight drop in home prices. A housing crash is not anticipated, though, and energy efficiency is becoming more and more significant. Build-to-rent projects are becoming more common, and the Renters Reform Bill is expected to change the way people rent. Birmingham is a desirable place to invest since it is experiencing a renaissance.
It is imperative to obtain expert advice from real estate professionals in order to successfully negotiate this changing market. Whether you're buying, selling, or investing, understanding these trends will be key to your success in the 2024 property market. In 2024, the housing market in the United Kingdom will present both opportunities and challenges.
https://www.bankrate.com/real-estate/housing-market-2024/
https://www.zoopla.co.uk/discover/property-news/whats-going-to-happen-to-the-uk-housing-market-in-2024/
https://www.theguardian.com/business/2023/oct/25/uk-house-prices-will-not-stop-falling-until-2025-lloyds-predicts
Latest posts by Julie Hanson
(see all)