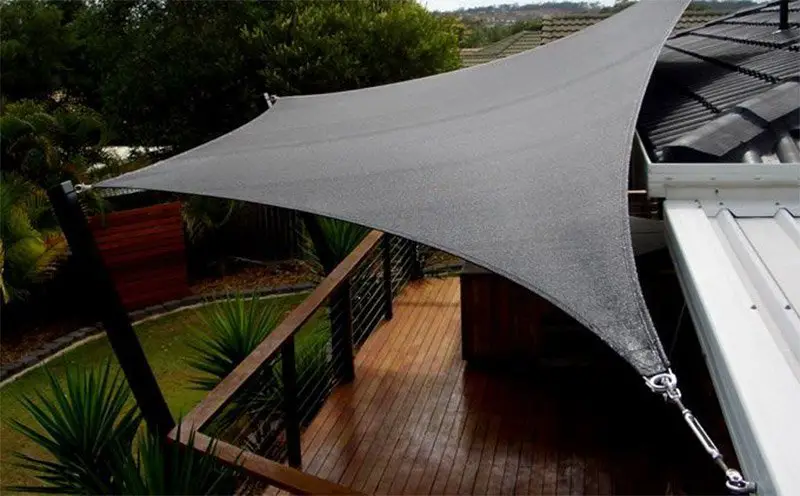 When it comes to sunlight, we're all now wise to the fact that we need protection. UV radiation makes up just a tiny part of the light spectrum but if you're exposed to the sun for too long, it can give you sunburn or worse. If you wish to enjoy your patio during the sunny summer months, you need shade. Shade sails over your pool patios not only help prevent skin problems, but they also keep your pool cleaner and cooler, according to the editor of The Pool Insider, Brad Polk.
Let's look at the options, kindly provided by Liam Houghton – an interior design specialist and freelance blogger working with Aquarius Blinds, a family-run blinds specialist based in Surrey.
Most of us have a garden umbrella that comes out when it's sunny. Good idea if you only have a patio table and chairs to protect, but even the biggest sun umbrellas don't cover a huge area. True, they're portable, but unwieldy. And however good the manufacturing quality may be, even the sturdiest parasol will struggle in windy conditions.
Retractable awnings are a much more solid solution to the problem. Fixed into the wall of the building, usually just above the patio doors, they provide ready access to shade when required and can be wound back in (manually or automatically) when not in use. Window awnings can also block glare into rooms of the house. Awnings can be made from sun resistant fabric, fibreglass or even aluminium and will need to be made to measure and installed by a professional. Apart from the relatively high cost (consider it as a long-term investment into your home), the downside is that not every patio is suitable.
Shade sails for domestic use are a relatively new idea – at least in the UK. Interestingly, in continental Europe and even as far away as Australia, they've been around for decades, with huge success. Could a shade sail be the perfect answer to your sun drenched patio problems? Let's take a look at the pros and cons.
PRO       Easy Installation
Shade sails make wonderful extensions that are quick to set up and remove. Unlike other, more permanent structures that may take days or even weeks to install or construct, shade sails offer a flexible solution to the changing British weather.
PRO       Stylish, Eye Catching Aesthetic
Shade sails come in different sizes and colours to perfectly complement the architecture and style of your home. Whether you choose to make a statement with a bold design or let it blend in seamlessly, a shade sail will always give a wow factor to your garden. It's a comparatively low cost solution that will add extra interest to your home.
PRO       Environmental Benefits
Rather than building, heating, lighting and furnishing an expensive and material intensive conservatory or building extension, a simple shade sail is all it takes to keep the sun off your patio. Shade sails can be manufactured from recyclable textiles.
PRO       Cooling and Ventilation
Shade sails provide top cover but, unlike gazebos or conservatories, are open at the sides, providing welcome airflow on a hot summer's day. Most shade sails are made from semi-permeable fabrics that keep the temperature underneath at least 10 degrees below the regular outside temperature. When installed strategically, your shade sail can also protect interior rooms from sun exposure.
PRO       Protection from the Elements
Obviously, the reason for installing a shade sail in the first place is to provide protection from the harmful UV rays of the sun, which can lead to skin diseases and skin cancer. In addition, shade sails can also offer protection from slight rain and drizzle.
CON       Sagging Sail
A good quality shade sail should neither sag nor droop. If you have purchased an inferior product and water, dirt or debris accumulates on the exterior of the sail, the weight may force the material to give, and sagging or drooping can occur. Always make sure that the sail material is fit for purpose, and consult an expert for proper installation, including fitting the sail at the right pitch to allow dirt and water to run off easily.
CON       Inadequate Rigging and Post Fixing
A professionally installed shade sail will require a minimum of 3 (for triangular sails) or 4 (for rectangular sails) posts, beams or anchor points     to secure the shade sail in place. If the posts or fixing points become loose or fail altogether, it may be the case that the sail is simply too heavy and either a lighter fabric or sturdier fixing points or posts should have been used. Strong wind can also be a contributing factor, which is why shade sails should always be detached and taken down in stormy weather.
CON       Short Lifespan
High quality sails are manufactured from tough, durable fabrics that are made to last for many years. Low quality sails, on the other hand, may not last the distance – you get what you pay for. The inferior fabric may become overstretched (which could lead to sagging), start to fray around the edges (looking unsightly) or become easily perforated by insects, birds or falling sharp objects.
CON       Fire Hazard
Finally, and thankfully rarely, shade sails that are made from flammable or non-fire retardant materials can catch fire, e.g. as a result of sparks flying from the BBQ. Double check the fire certificate of the shade sail material and always keep open fires well away from the vicinity of the shade sail, and have a fire extinguisher on standby for any accidents, just in case.