Normally when you're looking to purchase a property you can visit an estate agent and get all the information you need. What happens if you see somewhere you're really interested in and a for sale sign isn't present? How do you find out who owns the property?
A quick way to find out who owns a property is to knock on the door and ask. Alternatively, you can conduct a search using property records held by the Land Registry.
Asking the current occupier is the quick and free option, but isn't always possible, so let's take a look at how you can gather this information via database searches.
How to find out who owns a property
There are several ways to track down a property owner.
You can search online through the Land Registry, which are government held public records.
If you need more information or the owner is difficult to track down, you can also use a professional tracing agent. However, this option can be more expensive and may not always be successful.
What is the Land Registry?
The Land Registry is a government department responsible for maintaining a central register of land and property in England and Wales and provides a range of services, including the registration of titles and charges, the provision of official copies of documents and the maintenance of the Land Register.
They also keep track of who owns what, making it easier for people to research ownership via a simple property search. You can use the website to access freely available data from HM Land Registry, although note the free information is fairly limited. You must pay £3* to access the title plan or title register.
Title plans include general boundaries of the property, whereas title registers include additional information such as property ownership, mortgage status and purchase price paid.
How to search for the owner of a property on the Land Registry
To conduct a property owner search head to this website: https://eservices.landregistry.gov.uk/eservices/FindAProperty/view/QDSearch.do
Input the number and postcode information.  You can enter just a postcode and that will return a range of results.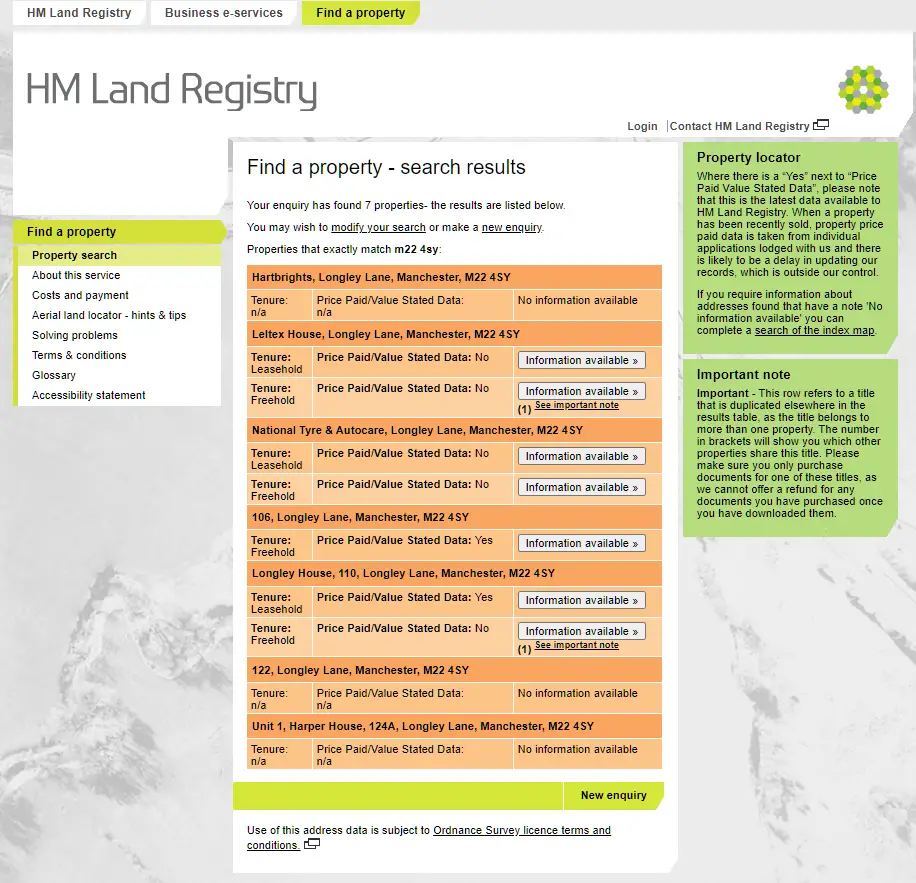 Entering both a house number/name and a postcode will return narrower results than entering just a postcode.
From the results, you can place an order for the property title register or title plan, key legal records that will help you identify the current owners.
What is a property title register?
The title register holds important information regarding ownership of the property. It can tell you:
Title number
Address
Price paid
Registered owners
Lender
You can also get a title summary that includes rights of way and indicates if a mortgage has been discharged.  It should return results for both residential and commercial properties.
You can view an example register here: Land Registry example title register.
If you're trying to identify the property owner, the title register is the one to pay for as it not only contains the name of the registered owner but also their address, which is likely to be different to the address you're interested in if they're renting it out.
What is a property title plan?
For an additional charge, you can gain access to the property title plan, which shows the piece of land owned by the title holder. This information is very useful if you're considering making an offer as it shows you what is included with the main property, such as garden spaces.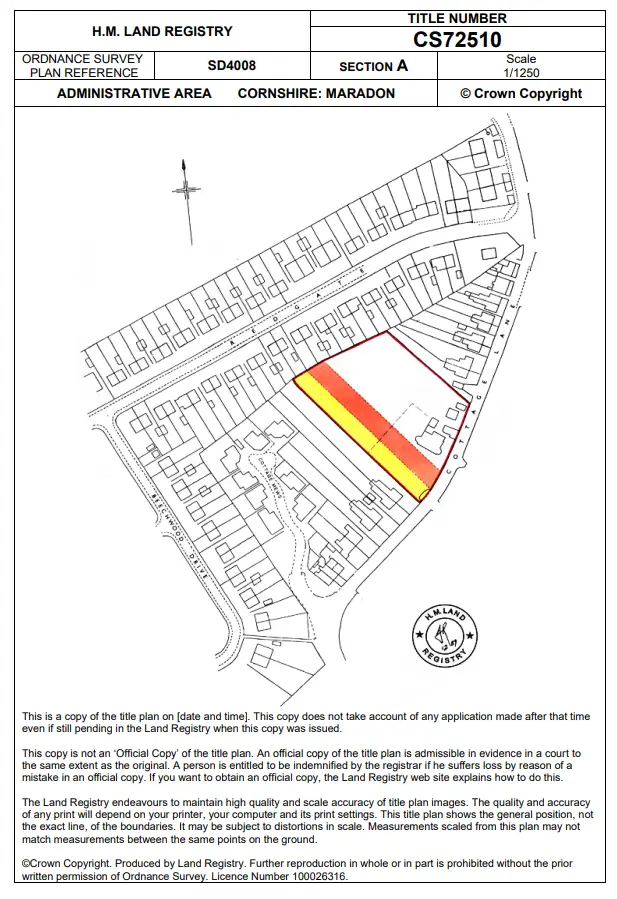 You can view the full example title plan here: Land Registry example title plan.
Where can I view property deeds online for free?
It isn't possible to view this information freely, you must pay a small fee to access the information online. It's not a huge fee to pay, especially when it gives you the key information you need to potentially purchase a property that, as a property investor, will eventually pay you back many times the cost.
Claim empty properties as your own!
We have a law in this country called Adverse Possession, which basically says that you can claim empty or abandoned land or property as your own and have full legal title to it.
As amazing as it seems it's a well-known law in the property world. Many people know about this law, but very few know how to use it to their advantage to accumulate numerous properties and acres of land to their portfolio. Read more about this in our blog post: https://justdoproperty.co.uk/claim-empty-properties-as-your-own/
What if the property is not registered on the Land Registry?
If the property is not registered on the Land Registry, it means that it is not included in HM Land Registry's records. This does not necessarily mean it is unregistered – it could simply mean that the current owner has not yet registered it with HM Land Registry.
In that case, I'd suggest your best option really is to knock on the door or pop a note through the letter box.  If leaving a note be sure to include your contact details, ideally a phone number and email address, to give them options of how to get back to you.  I wouldn't suggest a mailing address is required and I also wouldn't say the reason you're trying to get in touch, save that for when you make direct contact.
If you're looking to purchase the property then introducing yourself and starting the conversation is a must, especially as you could complete the purchase without the intervention of estate agents, so rather than a lot of messages going backwards and forwards, you speak to, and negotiate with, the owner directly.
Final thoughts
Accessing land records online gives you a quick and easy option when conducting a property owner search.  Remember, this legal document only tells you some information you'll need to make an offer, you'll still need to research the local area and come up with a reasonable offer for the current owner.
If you plant the seed about selling but they think you've made an undervalued offer I guarantee they'll get in touch with local estate agents to arrange a valuation and potentially place it on the market.  Check out our beginner's guide for how to research the area in advance of making an offer:

https://justdoproperty.co.uk/property-investment-for-beginners/
---
*Price correct April 2022