Have you ever considered buying a new property but felt reluctant because you don't know how to sell your existing one? Part-exchange might be the perfect solution for you. But what exactly is part-exchange, and how does it work?
Part exchange property is a scheme in which homeowners can swap their existing property for a brand-new house. The homeowner offers their existing property to the developer, and they receive an offer in return. This offer is usually discounted on the prevailing market value, but other discounts may be associated with it depending on the scheme provider.
Moving up the property ladder can be a stressful process, but with the right knowledge and understanding of what's involved, it doesn't have to be.
In this guide, we'll take you through everything you need to know about part-exchange schemes, including independent valuations, potential buyers, costs associated with selling your home through an estate agent, and Taylor Wimpey exchange schemes. With these tips in hand, you'll be able to move up the property ladder quickly and get the best deal on your new home.
What is part-exchange property?
Anyone looking to buy a new build property is likely to have heard of part-exchange. This transaction is open to anyone who already owns a home and is looking to upgrade and move on.
So what is part-exchange? With part-exchange, you trade in your house as partial payment for a new build home.
You bypass estate agents and the open market while your property developer buys your house. They then deduct your house's value from the cost of your new build.
Due to the comparatively fast-moving nature of part-exchange, this is a great move for buyers who are eager to move quickly, with minimal stress. Part-exchange is also a good option for the property developer because they are guaranteed a buyer for one of their properties.
Benefits of a part-exchange scheme
Part-exchange schemes can be a great way to upgrade your home without the hassle of selling it on the open market. With some research, budgeting and negotiation, you can save yourself time and money in the long run! Here are some of the main benefits of part-exchange:
You don't have to worry about estate agents or property chains. When you part-exchange, you'll be dealing directly with the seller who will handle all of the paperwork for you. This means no waiting for potential buyers and no hefty estate agent fees.
You'll know exactly what your current property is worth, as it's been independently valued by an experienced estate agent. This means that you won't have to pay over the odds for your new home and that you won't have any unexpected surprises in terms of buying costs.
Part-exchange makes it easier to get onto – or move up – the property ladder by freeing up finances for a larger deposit or more expensive property than normal mortgages would allow for. Companies like Taylor Wimpey offer attractive exchange schemes which make it easier than ever before to move house quickly and conveniently.
For most people, the perks come down to convenience, ease and speed. Given that the developer buys your house, you don't need to wait months until your property sells. There is no guarantee your house would sell on the open market, especially with everything that can affect or disrupt the housing market. With part-exchange, you are guaranteed a sale, which means less stress and concern.
Another benefit of part-exchange for buyers is you can bypass estate agents (and, of course, their fees, which can rack up).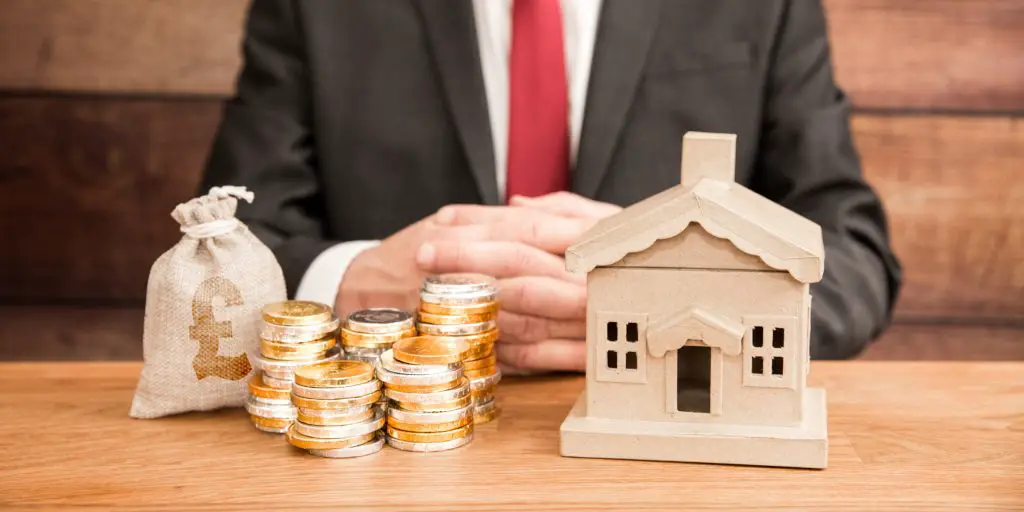 On top of this, the whole process is much speedier than the traditional purchase of a house, because you are not part of a chain.
You can complete your move in just a few weeks, rather than having to wait months and dealing with the possibility of someone within the chain dropping out.
Remarkably, 31% of house sales in England and Wales fell through before completion in 2022.
Experts suggest this may partially be a result of ongoing financial and political uncertainty affecting buyer confidence. Buying a new house is stressful enough without having to worry about everything collapsing at the last minute.
Finally, it's worth noting that if you are looking to buy a new build house but you haven't sold your existing property, a developer usually won't reserve the plot until you do. If, however, you opt for part exchange, this guarantees your plot and the home you want.
How does part-exchange work?
Part-exchange might sound good in theory, but how does it work?
Below is a step-by-step process of what to expect should you decide to use part-exchange to buy your new build:
Step One: You find a property development that offers part-exchange and talk to someone at the development site about your options.
Step Two: You find a property you love.
Step Three: Before you press ahead, you need to have your existing home valued by independent selling agents. This valuation will indicate the potential price your home will fetch on the open market. Most developers will ask for two valuations from independent agents, so they are sure the figure is right.
Step Four: This is when the developer makes you an offer (subject to survey) on your property. Many people are deterred from pursuing part exchange as they believe they will only get 75-80% of their home's value.
While some companies like this might dominate the web, in reality, many developers' in-house schemes will over between 85 and 90% of the house's value and if they work with a quality third-party specialist, you could get as much as 92% of your home's value.
Step Five: Should you accept the offer, you will need to arrange a mortgage on the new property and instruct your legal advisors.
Step Six: At this point, you need to instruct your conveyancing solicitor to assess the new property and pay any relevant reservation fees, to secure your new build.
Step Seven: If the assessments are successful, and the surveys don't uncover any issues, you will probably exchange contracts within four weeks Step Eight: Upon exchange of contracts, you will be asked to pay a deposit on the property.
Step Nine: Once the money is released, you can complete the sale.
What are the eligibility criteria for part exchange properties?
Eligibility for Part-Exchange Eligibility criteria for part-exchange will vary between property developers. In fact, there are differences between 'in-house' part exchange schemes that developers offer and what can be offered when working with specialist third-party part exchange specialists such as HBB Solutions.
Such specialists will have more flexible criteria regarding the properties they will buy (any location, condition and value will be considered).
When it comes to 'in-house' part exchange schemes, there is a general trend:
You need to own your own home.
Your current home must be in good condition so the developer can sell this property on. Be aware that some developers will have preferences with regards to the type of property they are willing to buy. For example, some developers may not buy a house with a flat roof.
The location of your old home will play a part in determining if you are eligible for part-exchange of a particular property.
If your home is above a certain percentage of the value of the new build property usually between 70-75% you will probably not be eligible for part-exchange.
If you have a leasehold property, you will have to have a minimum amount of time left on the lease. Get in touch with your developer to find out what their stipulations are in this area.
Importance of an Accurate Valuation
Part-exchanging your current property for a new one can be an exciting and hassle-free way to move up the property ladder, but it's important to ensure you get the best deal possible. To do this, you need an accurate valuation of your current house – and here's why.
Firstly, an independent valuation will ensure that you get a fair price for your home – saving you time and money in the long run. It also provides peace of mind for both parties, as it sets out what the market value is likely to be and any additional costs such as stamp duty or estate agent fees.
Secondly, getting an accurate valuation gives you a better understanding of potential buyers and how quickly they may be willing to make an offer on your home. If there are any structural defects in the property then these could affect the purchase price or timeline – so knowing them upfront could save you a lot of stress further down the line.
Finally, if you're planning on purchasing a brand-new home through a developer such as Taylor Wimpey then part of their exchange scheme may involve arranging an independent valuation for free – so this could save you thousands in costs!
Overall, getting an accurate valuation is essential when considering part-exchange schemes – so make sure you do your research beforehand!
Final Thoughts
In conclusion, part-exchange can be a great way to move up the property ladder without having to worry about the usual stress of selling and buying.
However, it's important to understand the eligibility criteria for such schemes as well as obtaining an accurate valuation from independent estate agents in order to ensure that you get the best possible price when it comes to selling your current home and going through the buying process for your new one.
Part-exchange can be a great option for anyone wanting to move up the property ladder and onto bigger and better things.
Source
https://www.homesellingexpert.co.uk/guides/what-percentage-of-house-sales-fall-through
Latest posts by Mark Draper
(see all)