When selling a property, you are generally guided by local estate agents as to what price you should ask for.  Just because they give you a suggested price, it doesn't mean you have to list it at that price.
You can sell your house for any price you want. However, the top end price is still governed by the market, and you need to ensure you have sufficient proceeds to satisfy any outstanding mortgage.
You can attempt to sell your house for under market value or for over market value, and there are various methods to do so, such as offering a lease option arrangement or using sealed bids.
In any case, the transfer of money needs to take place, which means the minimum consideration must be £1.
Why sell a house for less than it's worth?
There are a few reasons why someone might choose to sell their house for less than it's worth. One of the most common is when a homeowner needs to move quickly and doesn't have the time or resources to wait for the market to catch up with their asking price. In this case, they may be willing to accept a lower offer in order to get the sale done quickly.
Another reason someone might choose to sell their house for less than its worth is if they are facing financial hardship and need the money from the sale right away. This could be due to job loss, medical bills, or any other unexpected expense that has put them in a difficult situation.
Finally, some homeowners may simply want to get rid of their property as soon as possible and the financial income isn't a factor. They may be tired of dealing with repairs and maintenance costs or just want out of an area they no longer feel comfortable living in.
No matter what your reason is for selling your house for less than its worth, it's important to remember that you still need to make sure you have enough money from the sale to pay off any debts or outstanding mortgage payments.
What are the reasons to sell your house fast?
Property sales can take a long time, and this is one of the main reasons people will consider selling for a lower than the recommended value.
1. Save time
Selling your house fast can help you save time for those looking to move quickly, especially in the case of divorce, financial difficulty, and inherited property.
By choosing a fast sale service, you may be able to make more money from the sale than if you wait for the open market, because you can benefit from speed and avoid long delays.
There are also a number of independent property sourcing agents who are always on the lookout for the right property at the right price and are in a position of being able to move quickly to close a deal.
2. Unlock cash
A quick house sale provider can be a great solution for those facing financial difficulties, going through a divorce, experiencing a lifestyle change, inheriting a property, or relocating.
It can be beneficial to those that need to release equity quickly, as a lower price can often lead to offers made in cash and a quickly completed sale.
3. Ability to find a buyer for a property quickly
If the seller has specific time constraints, then a quick sale is essential and it's well known that finding a buyer can take time.
By setting a lower than market price you're going to attract a lot more interest and can usually avoid long drawn-out negotiations and the risk of no offers at all.
4. Potential to avoid real estate fees
Selling your house can be an expensive process, with fees from estate agents and solicitors, administration costs and disbursements.
However, with the right approach it is possible to avoid these fees and sell your house for free.
The Landlord Sales Agency offers a great service with no hidden charges, and a pool of pre-qualified buyers that makes it more likely that your sale will be successful.
Estate agents are in the business of earning from the best possible price for your property, selling via other means can reduce the resistance to an under market offer.
What are the pros and cons of selling your house for less than it's worth?
The pros and cons of selling a house below its market value depend on the seller's specific situation and objectives.
Selling a house at a more accessible price may attract more buyers and speed up the selling process, but it also comes with other legal issues, such as property valuation and taxes.
The advantages of selling a house for less than its worth include being able to attract more buyers and selling the house faster.
This is especially helpful for those who want to dispose of the house quickly or are selling the house to a family member.
It can also be a good option for people who are in financial trouble, as a short sale may allow them to sell the house for less than what they owe on their mortgage.
Despite these advantages, there are also drawbacks to selling a house below its worth. One of the biggest problems is that the seller may not be able to make the expected profit because the property is sold for less than its true value.
Furthermore, it is important to ensure proper legal documentation is in place to avoid any potential issues with taxes or future disputes.
What are the tips on how to sell your house for market value?
Before you go ahead and set a sales price, here are our tips:
1. Research the current market value of houses in your area
Check property portals such as Zoopla to get a rough idea of how much your property is worth by searching your address for a free valuation estimate, as well as sold prices for neighbouring homes.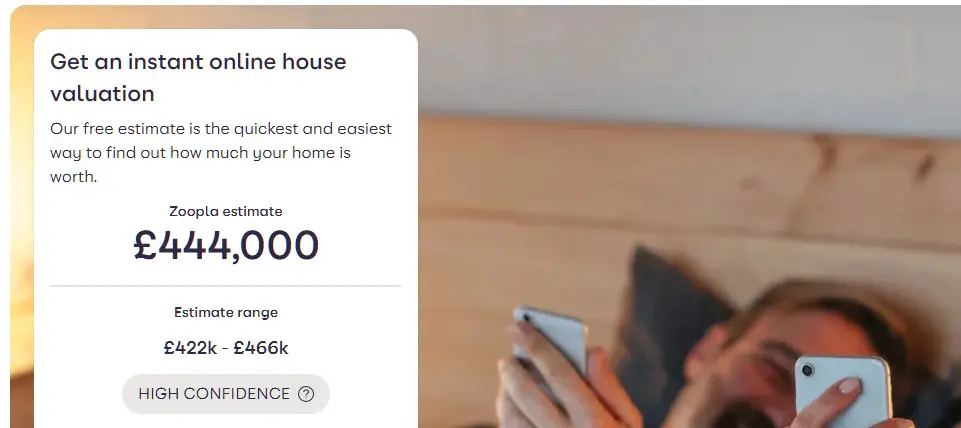 Check the Land Registry website to see what similar properties have sold for in the area.
Find an experienced local estate agent who can provide a more accurate valuation of your property. 
Check online to compare prices of similar homes in the area to determine a fair asking price.
2. Consider selling your house for market value
Selling your house for market value can be a difficult decision to make. On one hand, it could mean getting a good return on your investment and recouping the money you have put into the house over the years.
On the other hand, if the market is slow, you may have difficulty finding a buyer and may need to lower the price to attract one.
It is important to do your homework and consider the pros and cons before deciding whether you should market your house for market value.
Once you have a realistic idea of how much the house could sell for, you can then decide on a selling strategy.
If you have the time, you could start by listing your house at a high price and then gradually lower the price if no offers come in.
This allows you to thoroughly test the market and may result in a higher sale price. However, this approach also means that the house might sit on the market for a while, which could make potential buyers suspicious.
Alternatively, you could start by listing the house at a lower price and try to get a bidding war going. This strategy works best when the market is hot and there are a lot of willing buyers competing for a limited number of houses.
In addition, you could also choose to not accept any offers for a certain period in order to create a sense of urgency.
Whichever strategy you choose, it is important to select an estate agent based on their track record of achieving asking prices. Additionally, you may also want to consider using an online estate agent if you need to sell quickly.
3. Talk to a real estate agent about selling your house for market value
An estate agent can help you sell your house for market value by providing you with comparative market analysis to determine a fair offering price.
Based on the condition of the property and your personal situation they will help set a realistic asking price based on comparable homes in the area.
They can also handle negotiating with potential buyers on your behalf, and help you understand the paperwork and pitfalls involved in the real estate transaction.
An experienced real estate agent will also be able to help you stage and modernise your home, giving you an edge when it comes time to negotiate with buyers.
Finally, an agent will have experience in local selling strategies, allowing you to price your home competitively and maximise your chances of a quick sale.
4. Make sure your house is in good condition
When selling your house, it is important to ensure it is in good condition to get the best market value. Here is a step-by-step guide on how to do this:
Clean and stage your house before any visits from potential buyers. This is the simplest and cheapest way to make your house more attractive. Buyers rely heavily on emotions, and a dirty and untidy house will be a surefire way to deter them from wanting to buy.
Vacuum, deodorize, and open windows. This will help mask any bad smells, such as pet odours. Additionally, baking fresh bread or brewing coffee before a viewing can create a pleasant aroma.
 Attend to any minor issues, such as broken doorknobs or dripping taps. This can show potential buyers that larger, costlier issues have been addressed as well.
Ask a friend or an estate agent to point out any trouble spots in the house. They will likely be able to spot any problems that you have become immune to due to your familiarity with the home.
Declutter, clean thoroughly and paint the walls. This will help create an attractive and inviting first impression.
Get a homeowners insurance policy. This will help protect you in case a viewer has an accident on the premises and tries to sue you for damages.
Make sure to communicate any major improvements to the property, such as new boilers or added home automation, to the estate agent.
Have the house inspected and fix any issues that are discovered. This will help avoid any costly surprises later on.
Following these steps will help ensure your house is in the best condition and up to market value when it comes time to sell.
5. Make sure you have enough money to cover the costs of selling your house
Selling a house can be a complicated process, with numerous costs involved that need to be considered. Knowing what these costs are and how much money you will need to cover them can make all the difference in the success of your sale.
One of the most important costs associated with selling a home is the estate agent commission, which is typically a % of the sale price of the home.  The % amount will depend on your local market and how much competition there is for your business.
In addition to the commission, there are other fees, such as solicitor fees that need to be taken into account.
Timing can also be an important factor when it comes to selling your home. Many people find that spring is the best time to sell, as potential buyers tend to look for homes earlier in the year. If you can, wait until spring to list your home, as you may have more success finding buyers.
6. Prepare for the potential buyers' questions
Potential buyers may have several questions when considering purchasing your home, so it's important to be prepared.
Here are some of the questions you should be prepared to answer:
What is the asking price, and is there room for negotiation?
What is the condition of the home, and are there any known issues, such as plumbing or electrical?
Have there been any improvements or renovations done to the home?
Is the home available for immediate occupancy?
Is there a timeline for completing the sale?
Are there any potential hazards near the property, such as a busy street or a railroad track?
Are there any restrictions on the use of the property?
If you appoint an estate agent you usually won't need to worry about buyer questions, they'll be experienced in how to handle them on your behalf.
Final Thought
In conclusion, you can sell your house for any price, but it is important to take the necessary steps to ensure that your home is in the best condition in order to secure the best possible value.
It doesn't take much time or effort to declutter, clean thoroughly, paint walls, and refresh the garden. With these steps taken care of, you should be able to successfully sell your house at a price that works for both you and the buyer.
Latest posts by Mark Draper
(see all)