Since the end of World War II, the UK has seen an increase in vehicles on the road year after year in all but one and that's expected to be the case going into future years. The majority of vehicles in the UK are in fact stationary at any one time, forcing an increased demand on safe and secure parking spaces for your vehicle, even more so whilst being at home.
A driveway adds value to any home by providing extra parking space and making it easier to access the house. If you want to sell your home in the future, then having a driveway could make it easier to find potential buyers.
A well-maintained driveway will increase the curb appeal of your property and also makes your it safer because it protects against car accidents that happen when parked on a road. 
How does a driveway increase your property value?
Most homeowners would agree that they would prefer to avoid the burden of parking on the roadside.  The primary reason is one of inconvenience: you're not guaranteed a space near your property.
Driveways also provide extra benefits such as lower car insurance and a dramatically lower risk of damage to your car than it would do parking on the roadside or other car parking areas.
It's been stated in a recent poll of potential house buyers that potential buyers make up their mind on a property within the first 30 seconds of the viewing, so offering a driveway will be the first part of the checklist ticked off.
A recent survey by Ideal Homes suggested the 8th most important factor when searching for new home to house buyers is a driveway, with a huge 84% of the survey suggesting a driveway would be a dealbreaker.
If you are thinking of selling your home, and you do have a driveway, then you need to make sure it looks good.
After all, first impressions are everything, and a driveway is the first thing people will experience about your home, so you want it to look good.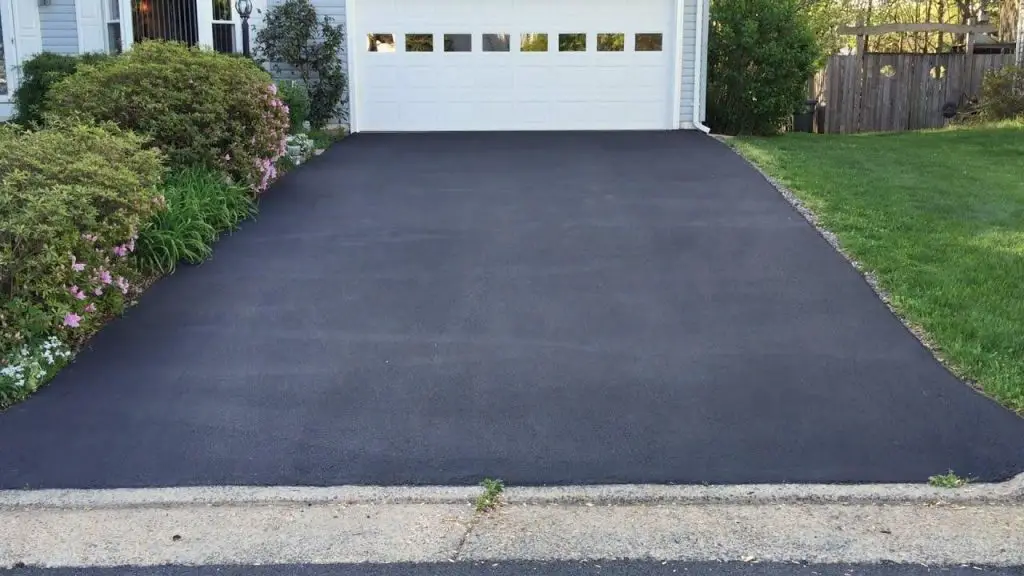 How much value does a driveway add to a house?
This isn't an easy question to answer as there are a number of factors that can play apart, these include the geographical location, the size of the driveway and the surface type of the driveway.
As a rule of thumb, having a driveway means you should expect to see your property value increase 10% as a UK average.
It's worth noting that the UK has seen properties having more than one vehicle increase dramatically so if the driveway space can offer the luxury of holding more than one vehicle this can only increase the demand for the property.
How much does a driveway cost
The cost will depend on a number of factors and will be bespoke to your specific situation. Factors determining cost include:
Size of driveway
Location
Labor costs
Existing surface type
Chosen replacement driveway type
The existing surface type is important because the ground will need to be prepared before a new driveway can be installed, and some surface types will be harder to prepare than others.
What driveway surface is the most popular?
One of the key decisions to make is what driveway type do you want.  These are the most common options:
Tarmac
Resin bound
Block paving
Flagstone
Gravel
Pattern imprinted concrete
Each type has its own proves and cons, I'd suggest taking a walk around and checking out what other people have and see how it looks.  You want to have an attractive driveway that is also long-lasting.
Is it possible a driveway will decrease my property value?
A good quality driveway will not de-value your home, but a poorly installed driveway and one that has not been well maintained will put off potential buyers.
Remember that a driveway is one of the first things potential tenants or buyers will see.  If the first thing a potential tenants sees is a badly maintained driveway they may conclude the property is generally badly maintained.
If a potential buyer sees it they could conclude there will be extra cost involved to put the driveway right and highlight or the extra maintenance that will be needed to keep the driveway looking at its best.
Final Thoughts
A driveway isn't as exiting as redoing a bathroom or kitchen, it's not a space you spend a lot of time in.  However, they do serve a very useful function and they can make a huge difference to the curb appeal of a property.
If you are considering a new driveway and are in two minds, then it's worth thinking of the extra value it will bring to your property and the extra potential tenant or buyers it will help make a great first impression to when they visit.
Latest posts by Mark Draper
(see all)