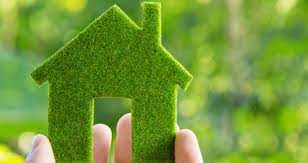 Today's building construction is characterized by energy aspects. That means architects and planners all over the world try to bring down energy consumption and make houses climate-neutral. Public mind has changed, instead of thinking only about a comfortable and nice home, the impact on the environment becomes the main guideline in house planning. Also, strong laws force people to build energy efficient buildings.
Of course, modern high-tech components, which are necessary to enjoy renewable energy for domestic heating systems, still are expensive and may increase the building costs up to £ 20,000 or even more, if different systems like solar energy, wind energy and geothermic energy are combined to make your house completely independent from fossil energy sources. Also, the additional insulation is cost-intensive, especially if natural material are be used.
There are some development programmes initiated by the government, however, the necessary investment will be higher than in traditional houses. If you take only the pure investment costs into consideration, you won't find too much reasons to install high-tech energy systems, except for legal obligation. However, that is a naïve miscalculation that doesn't reflect real circumstances. Why?
Reasons to invest in low carbon buildings
Let's first have a look on present energy costs. Fossil energy rise in value every year more and more, in Germany for example the prices for heating, electricity and gasoil raised 7 per cent in just one year! Oil and natural gas are limited sources and also affect the environment by carbon dioxide emissions, besides of other harmful emissions like sulphur and fine particles. Governments will obligate house owners to install filters and other equipment to reduce those emissions.
On the other hand, you have to take into account that you will save a considerable quantity of money if you decide to switch to renewable energy. Nowadays it make sense to install modern energy systems in the further developed eco passive house, which now allows to take advantage of the energy that the sun, the wind and the earth offer us without the need to live in the south of Europe. The most advanced building technology helps to gain passive sun energy and to avoid heat loss caused by transmission.
That makes low carbon buildings not only interesting for private owners, but also for fund investors or investor groups. Both – the savings of energy costs and the higher sales price – will change the first calculation.
SAP Rating influences real estate sales prices directly. That is a fact in the UK market nowadays already and will become more and more important in the future. Just now, the difference between a B-rated and a D-rated building marks a revenue difference of 8 per cent, with upwards trend. Soon it will be difficult or even impossible to sell a D-rated house. In UK almost 66 per cent of the population are homeowner and faced with this fact sooner or later. Therefore, it is a good moment to adapt a new construction or a renovation to the new situation and transform it to a low carbon building.
How to reach a low carbon standard?
To reach a low or even Net Zero Carbon house, you have to complete several conditions:
• Life-cycle zero gas emissions from consumption (energy and water)
• Life-cycle zero emissions or impacts of all used construction materials and their handling and installation
• Life-cycle zero emissions of waste disposal and recycling
• Benefits of exported energy and recycled materials, avoiding impacts to the environment
The strict use of sustainable materials during the construction and the maximum exploitation of renewable energy sources can guarantee this high goal. What is possible with today's possibilities?
Starting with the materials, almost each conventional construction material has a natural alternative. Concrete, steel, synthetic foam and PVC easily may be replaced with wood, rammed earth bricks, sheep wool or cork. Even advanced recycled material made from steel powder and silica or ash with cement is available. Whatever you will use, take care of a highly efficient insulation to avoid transmission loss.
To run your house and to keep it warm, you can take advantage of 3 marvellous energy sources: sun, earth and air. Especially the intelligent combination of two or even three renewable energy sources make sense to convert your home in a completely self-sufficient and carbon-neutral green house.
The additional investment quickly can be compensated by the high energy savings and possible future taxes that may affect D-rated buildings.