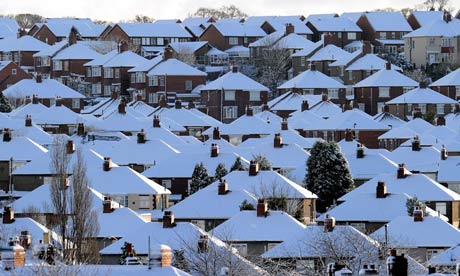 Winter is fast approaching and that could mean plenty of bitter nights ahead. The reality, however, is that your property could bear the brunt of the colder nights. To keep everything working as it should and to prevent damage to your home, here are a few ways you can prepare your property for the winter season.
Check your windows and doors 
Throughout the summer, you will no doubt have had the windows and doors open or on the latch to make the most of the fresh air and sunshine. But now that the temperature has dipped, it's worth doing a check of all of them to make sure they're all closed and to save money on your heating bills. When you're checking them, make sure there aren't any gaps in the seals to minimise the risk of draughts. Secondary glazing can also benefit the warmth of the room by maintaining heat inside.
Test your heating  
With colder nights on the horizon, you'll be putting the heating on more often than you have been for the past few months so it's worth checking it in advance, so you don't get a nasty surprise. Before the weather gets really cold, check whether your radiators need bleeding and check that the boiler is working properly. It's also worth dusting off the filters or vents for additional benefit.
Check your drains
Drains can get filled with silt and runoff during the summer and the blockage or slow draining only becomes apparent in the winter weather. The summer is also a time where root growth can damage drains on your property causing all sorts of issues. As a homeowner or a landlord, it is important to get a proper drainage company to check everything properly.  You may even choose a commercial drainage company if you have multiple properties or one very big one!
Clear the guttering 
Leaves and dead plant material can be blown into gutters and drainpipes, causing them to block up. This can cause leaking into the roof and the sides of your home. During autumn, it's worth clearing the gutters and repairing any damage that's been caused over the previous months in preparation for winter.
Prepare for power cuts 
While power cuts are rare these days, they can still happen, and you don't want to be left scrambling to find things in the dark if your home is subject to one. Power cuts are more likely to occur in the winter because of extreme weather, and the longer periods of darkness can result in more of an impact from loss of power. So, it pays to be prepared. If your power does go, make sure that electrical appliances are turned off so that they don't turn back on when the power returns. You should also put together an emergency pack to have to hand in the event of a power cut, including a battery-powered or wind-up torch, an extra pack of batteries, a power pack to charge mobile phones and other devices, and a warm blanket.
Put garden furniture away 
High winds are a common occurrence during the latter part of the year, so the items you've been enjoying using in the garden during the summer could become hazardous to your property if left outside. Make sure items like garden tables chairs and kids' toys are packed away for the cold season, ready for use next year.
Trim back trees and large shrubs 
Another way to avoid a build-up of leaves in the guttering is to prune the trees and shrubbery in your garden before winter really hits. This can prevent leaves and twigs from blocking pipes but also prevents snow from building up which can pose the risk of damage from broken branches.
Insulate the loft 
Insulation makes a real difference in any property, but with much of the heat loss occurring through the roof, adding insulation to your loft can do wonders for keeping your property warm and comfortable. If you already have insulation, it's worth checking that it's up to the right standard and whether more can be added for extra benefit.
Final thoughts 
With a bit of forward-thinking and planning, you can keep your home warm, comfortable and risk-free during the colder months. In addition to making sure you have insurance for any calamities that might occur, make sure that your boiler is working properly, the pipes are insulated and free from damage, and your guttering and drainpipes are free from leaves to prepare your home for the winter.