If you're interested in property in America there is one website to rule them all: Zillow.  So what happens when you're in the US but want to check out property in the UK?  What is the Zillow equivalent?
In the United Kingdom, there is no one website that dominates the online real estate market like Zillow does in the United States. There are a variety of property websites that cater to different audiences and serve different purposes. Three popular property websites in the UK are Rightmove, Zoopla, and OnTheMarket.

Rightmove is by far the biggest property website in terms of traffic and listings. It was founded in 2000 and it now has over 1 million properties listed on its site.
Zoopla is an online property search engine that allows renters and homeowners to find and compare prices on a wide range of properties. With Zoopla, you can easily find homes for sale, rental units, and apartments near you. You can also filter listings by location and type of property to ensure you only see the properties that are best suited for your needs. 

OnTheMarket is a newer entrant to the UK Property market but it has quickly become one of the top-rated sites thanks to its modern design interface and user-friendly features.
What is Zillow?
Zillow is an American real estate and rental marketplace company that was founded in 2006. The website operates in the United States territories.
Zillow claims to be the most-visited real estate website in the United states, with 80% of US homes viewed on the platform.  Between the website and apps they get 32 million visitors (as of 2019) and have approximatly 234 million monthly unique users (as of 2021)
What services does Zillow offer? 

Zillow provides a number of services to property investors, including displaying listings from other brokers and tracking past performance of properties.
How do you use it to find homes in the US?
Zillow offes a very easy to use website allowing you to search more than 100 million homes by entering an address, city or ZIP code into the search bar on the homepage.  Alternatively, they can use the map tool to browse by location.
Once users have found a desired property, they can view photos, learn about amenities and local schools nearby and request a tour.
What's the equivalent of Zillow in the UK then..?
There isn't the same monopoly in the UK that Zillow has managed to build in America, in fact, the UK has lots of different websites available for property research.
Rightmove.co.uk
The go-to website for property listings all over England, Scotland, and Wales, Rightmove is the leading property website in the UK, offering over a million listings from tens of thousands of estate and letting agents.
The site covers all types of properties for sale and to rent, including houses, flats, apartments, bungalows, maisonettes, terraced houses, farmhouses, land, and commercial premises such as offices shops, and warehouses.
The interface offers a similar experience, shows you key details, a range of photos and who to contact if you want to learn more.
In February 2020 they reported surpassing 150 million visits in January that year, and it's ranked #1 by SimilarWeb for the UK real estate category.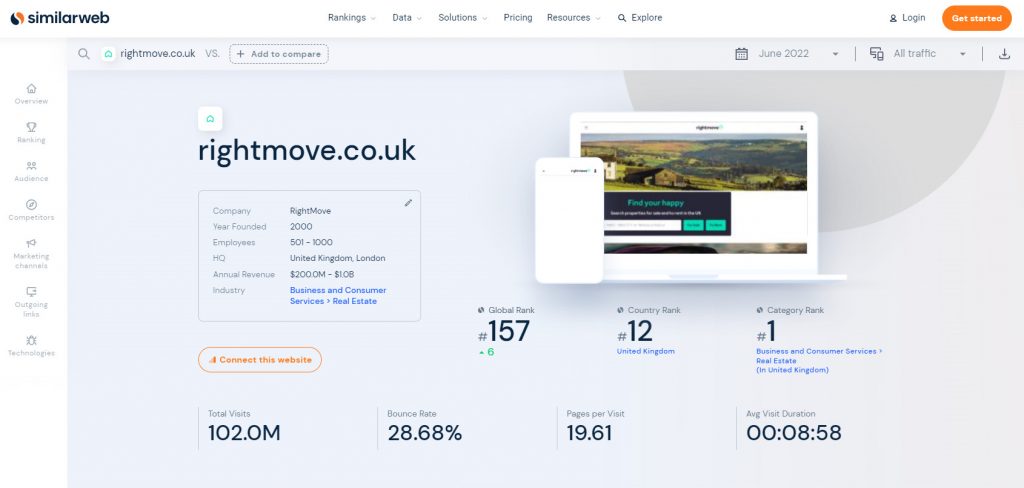 Zoopla.co.uk
Another option is Zoopla, which also offers a website and app to help people buy, sell and rent properties.  They also provide key details, floor plans and contact information.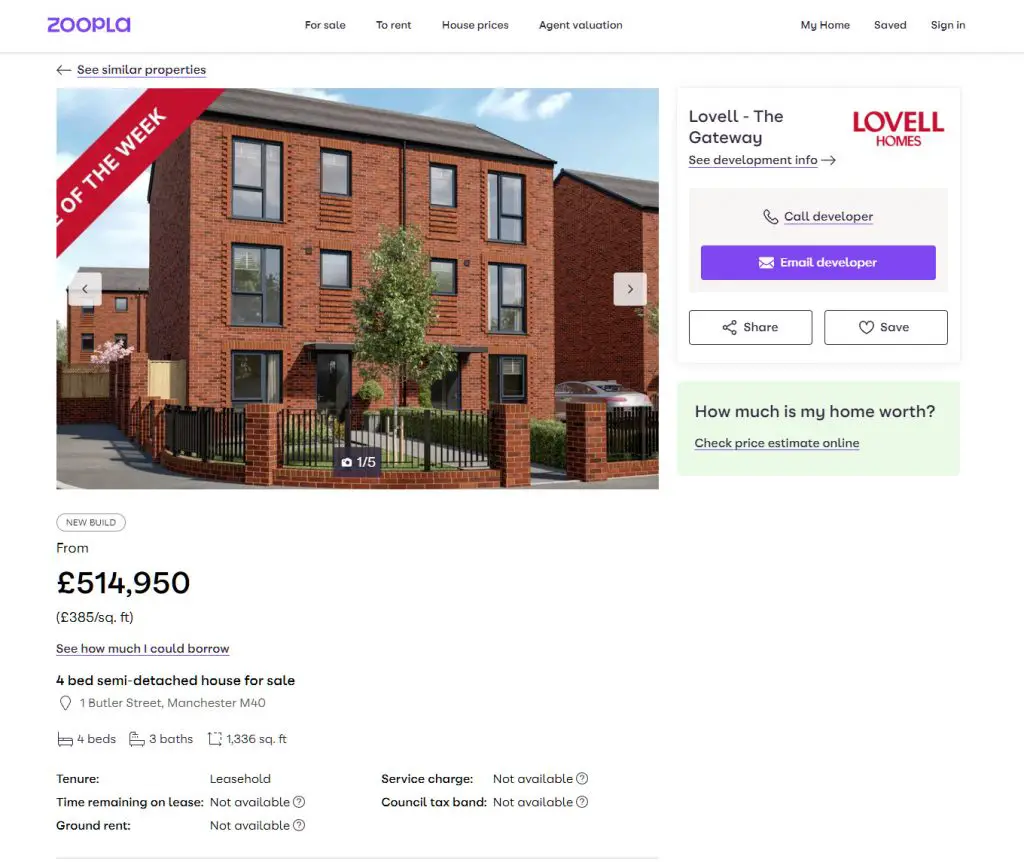 Zoopla is owned by ZPG Ltd which also owns price comparison service Uswitch and money.co.uk.  It was launched in 2009 and while it remains a popular website it's not been able to knock Rightmove off the top spot.
OnTheMarket.com
A challenger site that launched in 2015 and has quickly become popular with homebuyers & renters across the UK. The site provides users with listings of properties for sale or rent in their area, as well as information on prices and property values.
As a challenger brand they've had to come up with something special, and that something is 'Only With Us' properties, which are properties newly for sale that are listed via onthemarket.com 24 hours or more before RightMove/Zoopla.  That edge gives them a reported 2,500 to 10,000 more properties each month.
However, it has yet to help them secure the top spot, being the 3rd most popular website according to SimilarWeb.
Conclusion 
Property investment is an interesting and profitable way to make extra money. It can be a source of steady income, but it requires time spent on researching locations and potential purchases.
Fortunately, between these 3 websites, research has never been simpler, even if you're outside the UK.  There are many types of property, so find the right one for you and get started!
---
Sources
https://expandedramblings.com/index.php/zillow-statistics/
https://www.rightmove.co.uk/news/articles/dream-properties/busiest-ever-month-on-rightmove-as-confidence-returns-to-market/
https://www.similarweb.com/website/zoopla.co.uk/#overview
https://www.similarweb.com/website/onthemarket.com/#overview
https://www.similarweb.com/website/rightmove.co.uk/#overview
https://www.similarweb.com/website/rightmove.co.uk/#overview