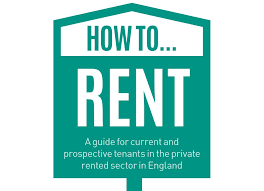 We wanted to make you all aware that a new How To Rent Guide has been issued by the government.  This is a key document that Landlords or their agents have to issue to tenants.
As of 1st October 2015 landlords of properties in England must provide tenants with a Department of Communities and Local Government (DCLG) Booklet on "How to rent" which can be accessed at www.gov.uk/government/publications/how-to-rent
If the most up to date guide isn't given to your tenants it invalidates any future Section 21 action. Failure to serve the document correctly, and to have proof of it being served, will also invalidate any Section 21 served.
The Ministry of Housing, Communities and Local Government, which has issued the update today, says the most recent previous version dated August 7 2019 is now out of date.
In the event of further action, landlords must also prove the document has been saved on the tenant. The guide can be served in hard copy format or – with the consent of the tenant – via email in PDF form.
The Guild of Letting and Management is advising landlords not to save the document as a PDF but instead save the website address so there will be access to the most up to date version.
As a landlord, it is your sole responsibility to ensure that you meet all legal requirements. You can't blame lack of awareness or your letting agent. It is down to you – if you don't meet these requirements you could face prosecution. It's a scary thought; so, knowledge is the key. Even if you have a letting agent managing your property, make sure that you are familiar with your legal responsibilities and you'll be covered.  We have created a legal checklist for landlords – click the link below to download it.
Download our Legal Checklist for Landlords
Also, don't forget that landlords are required by law to ensure that a property's electrical system and any supplied electrical appliances are safe throughout the tenancy.
From 1 July 2020 it has been a legal requirement for private landlords to carry out mandatory electrical safety checks on all new tenancies every five years and to provide safety certificates to their tenants and their local authority. The regulations will be extended to existing tenancies from April 2021.