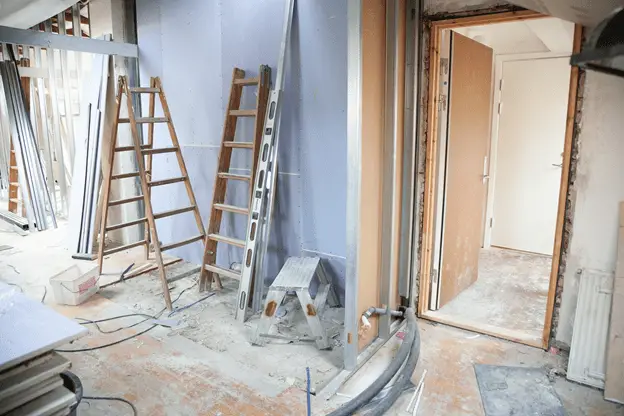 When it becomes time for you to renovate your home, be it from your bathroom or extending the walls of your kitchen, replacing doors and windows, the renovation process can put your home at risk of burglary and intruders. If dealing with a large contractor for the service, you will most likely have several strangers moving in and out of your home frequently during your remodel and you should be cautious and take precautions. If you are planning a renovation with exposed walls, the lack of home security will be heightened. However, there are many steps to take in order to ensure your belongings and your family stay safe. Being proactive with safety before and after your renovations, you will keep your family's home safe and secure for years to come.
Protecting The Biggest Investment of your Lifetime
Your home will likely be the biggest investment in your lifetime, so you should do whatever you can to protect it. For example, when shopping around for someone to do your home renovations it is important you do your research on the contractor company. Doing a baseline background check will help you understand any issues that they may have caused a customer in the past. Easy ways to do this is to ask friends and family who recently had work done to their home with no issues who did their work. Getting a firsthand account of the contractor's services is one of the best ways to get an idea of their capabilities. You can further do your research by checking their website for credentials or testimonials.  You can ask potential contractors about the precautions they take throughout the renovation process. A good contractor would share with you tips to keep your home secure during and after the renovation.
Protecting your Home During Renovations
Doors and walls that become exposed due to renovations are the biggest vulnerabilities during a renovation. You should store any valuables away from plain sight. Items that were once kept safe by four walls and a door are now at risk. If you have yet to install a security door there are a few things you can do to keep your things safe. Purchasing safely is the easiest solution. Consider buying a safe and bolting it down or keeping it safely stowed away by putting it behind a locked door. For larger valuables that may not fit in a safe, you should consider renting a storage garage or at a friend or family member's home.
Securing your Home
You want your home to remain safe throughout and beyond the renovation process. You should be aware that during a renovation if you remove a wall, door, or screen can adversely affect your security system. If you do not currently have a security system it may be worth your while to look at one. You will want motion sensors to be included in your security system. Motion sensors are a leading way to deter a burglar. If you want to take your home security a step further, consider video surveillance for your home and property. Any suspicious activity will be caught on tape and once handed over to local authorities can be used to help find a burglar or any unwanted visitors.
Finding Inspiration
If you've lived in your home for a long time you've probably had dozens of keys made over the years, so when doing a major renovation you should consider including changing your locks. This should especially be a priority if you know of someone who may have a copy who is no longer welcome on your property. Technology is always changing. You may want to consider getting a key-less or passcode lock. This will allow you to know digitally who is coming in and out of your house. Key-less also gives the user a mobile phone application option to lock and unlock the doors remotely This technology is perfect for when you think you forgot to lock your doors after leaving for work in the mornings, you misplace your keys, or letting someone into your home and you are not there to let them in. Another upgrade you should do during renovations is implementing motion sensor lights and outdoor lighting around your home. Unwanted visitors tend to feel exposed when the lights turn on. If you do not have the resources to make the jump have motion sensor lighting, simply turn on your outside lights at night to create a visible scene. If you are looking for ideas to make your home more safe, secure, and comfortable check out justdoproperty.co.uk for inspiration. Seeing other people's homes is always a great tool for anyone about to do renovations.
Safe and Secure Doors and Screens
You must choose the most durable and secure doors and products throughout your construction. One way to increase the security of your home is to search for premium security screens. Security screens are typically strong woven stainless steel mesh, secured by a screw-clamp system connecting the frame and the mesh. The unique designs result in an outstandingly strong and versatile security screen that provides excellent airflow, security, and visibility. These are perfect additions to any home, especially in areas with consistently warmer climates. There are a variety of different options to fit your security and design needs and desires.
There are many reasons why you may need to renovate your home. Parts of your home can be broken, outdated, or missing. You may want to increase the comfort or design of your home. Everyone likes to come to a comfortable and enjoyable home. Another big reason why people look to renovate is to increase the value of their home. If you are one of the many people out there who plans to sell their homes someday, you will likely look to renovate the home to increase its value. Assure your home has new and leading security and safety features are a great way to increase the value of your home. Regardless of your reason for renovating, you want to do everything right the first time. Take all the time you need before you starting your renovations. You will thank yourself in the end.