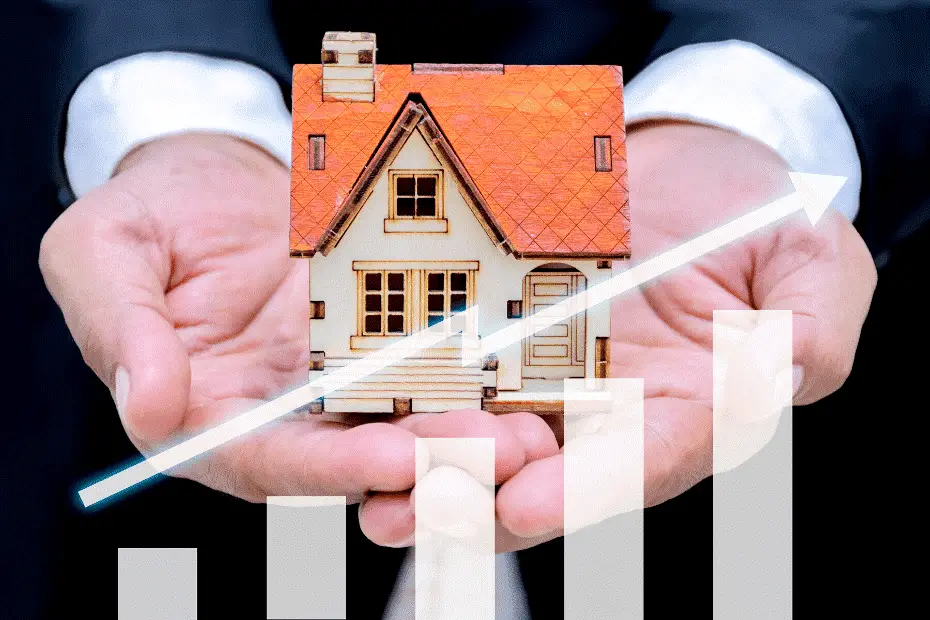 The UK is the 6th largest economy in the world and the 80th largest country by landmass. As such, this mismatch leads to a large demand for UK property from investors. In fact, The Royal Institute of Chartered Surveyors (RICS) released a report showing in 2021 demand exceeded supply by the highest level since 2002. Homeowners experienced this as an over 11% rise in their property values in 2021. In addition to this growth, the majority of UK homeowners experience high rental demand and yields. So, there are many attractive reasons to invest in UK property.
But, what property investment strategies in the UK should you use? Which ones are available to you? This article will give an overview of 9 tried and tested UK property investment strategies.
Property Investment Strategies UK: Flips 
It's likely that the most common strategy you've heard of is 'flipping' properties. The idea is simple: you buy a house for a discounted price and sell it for more. As a result, the difference becomes your profit. However, this strategy has some limitations.
Firstly, many houses that are bought at a discount will need a lot of work. This would mean project managing a refurbishment and a team of contractors. Without experience in the field, it can be a challenging task to undertake with many potential complications. These can include contractors not finishing on time, not performing jobs as promised, or costs rocketing above your budget. Secondly, once the property is sold then the profit is taken and you will lose the opportunity to make future income from that property.
If the above doesn't dissuade you then this could be an attractive strategy for you. There are also plenty of benefits beyond profit to refurbishing a property. Green home building grants exist to help add more environmentally friendly features to a house. These will also increase the value and attractiveness of your house on resale. You also gain the creative freedom to design a home how you would like within the constraints of current regulations.
Summary of limitations:
Requires a refurbishment with associated potential problems
Returns stop as soon as you sell the property
Capital gains tax can significantly limit returns
Ways to reduce risks:
Prepare an over-budget for refurbishment
Use reliable contractors recommended by friends/family (reviews can sometimes be misleading)
Take advantage of any green government incentives
Consult a tax advisor before purchasing
Property Investment Strategies UK: BRRR 
If you like the idea of a refurbishment and creating lasting income, this could be a great strategy for you. BRRR stands for buy, refurbish, refinance and rent. The idea is simple: you obtain a property that requires some work using cash or short-term lending. This is because usually for a property to be mortgage-able it has to be habitable.
After purchasing the property and performing the refurbishment, the property value will increase. You will then re-mortgage the property for the new price. Therefore, pulling out most of your initial investment to use on the next project. You also retain ownership of the property so that you can continue to create income from it.
Some risks with this strategy include:
Refurbishment costs increasing more than expected
Contractors taking longer to perform work than quoted
High interest rates from short term finance while performing the refurbishment
Property value rising less than expected leading to difficulty releasing initial investment
Lower rental demand in area than expected
Ways to reduce risks:
Perform due diligence on the area before purchasing to ensure strong rental demand
Prepare an over-budget for refurbishment
Use reliable contractors recommended by friends/family (reviews can sometimes be misleading)
Take advantage of any green government incentives
Consult a tax advisor before purchasing
Property Investment Strategies UK: Buy to Let 
A buy to let is one of the most common strategies used by property investors. The investor buys the property using cash or a mortgage and immediately rents the whole property to a vetted tenant long-term.
It avoids the potential risks associated with a refurbishment while maintaining the creation of a long-term income.
Some significant risks with this strategy include:
Small profit margins if mortgaged which can easily be eliminated if mortgage interest rates rise
Tenants stop paying rent for the whole property
Low rental demand
 Ways to reduce risks:
Purchase lower cost, higher yield properties (ideally 6%+ yield)
Professional reference/background checks on all tenants
Perform due diligence on area before purchasing to ensure strong rental demand
Rent a property by rooms (HMO strategy below)
Property Investment Strategies UK: HMO 
Houses in Multiple Occupation (HMO) are a strong strategy for those who want to maximise rental yield and reduce the risks of void periods. Key benefits are that yields can double compared to a single let and that tenant defaults are less troublesome. For example, let's say your house is rented to 5 separate professionals and 1 tenant defaults. You will only lose 20% of the income rather than all of it with a single let.
There are some key drawbacks to this strategy, though. If you separate a property in this way, it is subject to increased regulatory requirements. That can mean stricter fire safety including new specialised doors, sound proofing and space requirements. So, getting your property up to the requirements of a license is generally more expensive than a usual refurbishment. You will also need specialised knowledge to correctly set up the house. For these reasons, this strategy is generally not recommended to beginners.
Some significant risks with this strategy include:
Not meeting licensing threshold after refurbishment
Low tenant demand
Higher rates and more limited supply of mortgages (requires specialised lender)
More maintenance needed
Ways to reduce risks:
Contact a local licensing officer to visit the house before undertaking refurbishment to ensure meeting requirements
Due diligence on the area to ensure demand from single working professionals or students
Use specialist mortgage broker to obtain correct finance
Budget for increased maintenance costs (15% of income)
Property Investment Strategies UK: Serviced Accommodation 
This global pandemic has severely limited how much you can travel between countries. As a result, domestic travel within the UK has been booming. Tourists visit properties set up for short term lets and listed on agent websites such as AirBnB or Booking.com. There is a high level of competition on these platforms which means to attract bookings your property must look impressive. If you have a strong creative side and enjoy interior design this could be the area you will shine.
Since you can charge by the night rather than the month, your yield significantly increases. This will usually be at the cost of having more maintenance and guest contact, unless this is outsourced. There is also a much larger exposure to current market conditions. For example, when the COVID-19 pandemic hit then those who ran serviced accommodation lost a huge proportion of income. In contrast, investors who had single lets kept a steady income for the post part with long-term tenants. For these reasons serviced accommodation can be seen as a high-risk, high-reward strategy.
A summary of the risks/disadvantages with this strategy include:
Become vulnerable to economic changes in the UK
Increased guest correspondence and maintenance required
Low booking demand for the area
High upkeep costs
Regulation changes could require licensing in the future
Ways to reduce risks:
Maintain a healthy balance of serviced accommodation and other property investments (not more than 50% SA)
Outsource maintenance/correspondence to an agent or virtual assistant
Maintain minimum bookings to 3 nights or more (1 night stays can increase problems encountered)
Perform due diligence on similar properties in the area when considering setup. 
Property Investment Strategies UK: Commercial to Residential 
Planning law in the UK is constantly under review and major changes were made in 2015. The government amended the General Permitted Development Order (GPDO) to allow the conversion of unused commercial premises to residential. This is a fairly advanced strategy as there are certain exceptions to this clause. For example, listed buildings or those within conservation areas cannot be converted to residential areas. You also would need to apply to change the building's use class.
Although there can be a lot of hurdles to overcome there are also a few key benefits to this strategy. To clarify, commercial properties usually are competitively priced, in good locations and are blank canvases. This gives a lot of potential for how they can be arranged. This includes to create high-yield HMOs which are worth significantly more than their commercial use. 
A summary of the risks/disadvantages with this strategy include:
Your property may have no comparable units making valuation difficult after refurbishment
Although planning permission is not required, application for change of use case is necessary
Large scale refurbishment necessary with associated possible complications
Bridging finance while performing the refurbishment can be expensive
Ways to reduce risks:
Plan what kind of property you want to create and discuss this with other investors who know the area
Ensure you have performed smaller scale projects in the past before
Create a buffer of cash reserves to allow payment of extra interest in case refurbishment takes longer than expected
Consult a planning expert before embarking on the project to ensure the property qualifies for permitted development. 
 Property Investment Strategies UK: Planning Permission 
Property developers search for new projects constantly to add value to an area or piece of land. Once a development is made, this increases the value of the land. But, even the plans to develop a particular property add value to an area. As such, a savvy investor could buy land and create plans for a development. If you then have this approved by the local council, the value of the associated land or property increases.
Your increase in value will depend on the amount of added value and size of your plans. This strategy will require the use of an architect and knowledge of planning law. Therefore, it is not recommended for beginners. 
Property Investment Strategies UK: Starting Without Capital 
Over recent years there has been an increased interest in the idea of becoming a property investor without much starting capital. Some examples of these are Rent to Rent (R2R) and Lease Option Agreements (LOAs). 
Rent to Rent
This strategy allows you to implement serviced accommodation on a property you rent, rather than own. That means you can get started with a fraction of the usual costs, but your upkeep costs are higher. By doing this you are really entering a "high risk, high reward" area. That is because your income could stop at any time.
To obtain these deals, the best way is to network with an estate agent. They will be able to tell you the properties that this is suitable for. This is necessary as only a small proportion of landlords would be happy for their property to be used in this way. In addition, lenders and flat freeholders usually have clauses which prevent serviced accommodation use on their grounds. 
Lease Option Agreement
The savvy property investor is always looking for a solution to a particular vendor's problems.
Many vendors who are distressed will want to make a sale at the property's full market value but can't afford to wait too long. This can be because of their mounting expenses associated with the property. You can offer the LOA as a solution for the vendor in this situation. You offer the market value of the property but to buy in 3-5 years and take control of the property. The investor would usually take on responsibility for maintenance costs and repairs from the vendor. Then, years down the line, you will have the option to buy from the vendor if the property value increases. It is a win-win solution since the vendor is freed from their distressed position and the investor benefits too. To clarify, the investor can receive income instantly from a property they do not own and also buy a discounted property in the future.
Conclusion 
There are many more UK property investment strategies than initially meets the eye. Each investor is different and finding the right strategy for you takes time and practice. By knowing about them, you will find yourself gaining opportunities that you didn't think were possible before. Good luck out there in the market and we would love to hear about your experiences below.