London is again the only region that has seen an increase in average property price over the last 12 months, according to the Land Registry.
Overall in October England and Wales has seen a fall of -0.9% to leave the average house price at £159,999. This further represents a -3.2% annual changes since the same period last year.
Even though London has seen an increase annually, there was actually a fall of -1.6% in October, leaving the average house price at £340,308.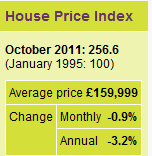 Regionally elsewhere the East has managed to see a 0.7% increase to £173,410, followed by the East Midlands with a 0.4% growth.
However Wales has seen a substantial fall of -3.0% to land with an average house price of £115,923.
The cheapest house prices remain in the North East though at £100,674 – a -1.8% fall in October and -7.2% over the whole year!