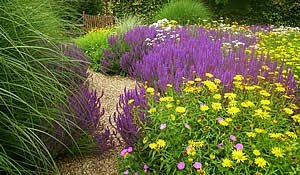 If you are looking for ways to improve the value of your home ready for sale, then the garden may be an area of untapped potential. Many of us get caught up in redecoration or renovation that may look good but not add as much as we had hoped onto the overall property value. 
Taking the time to maximise your garden will not only help prospective buyers to imagine what their life may be like but will also make them feel happier about spending more than they had expected. 
4 Tips for Improving Your Garden To Maximise Your Property's Value
When you are working on getting your house sorted for sale, try following these four tips to help your garden shine – buyers will be glad you did! 
Essential Maintenance
If you have a cracked path, old fences of damaged outbuildings, then your garden may look to be too much of a task for a prospective buyer. You want people to walk around the garden and feel like it can be a place for them to enjoy with as little effort as possible. Take the time to complete any essential maintenance and repair any damage so that your garden looks great! 
It is also important to keep a check on the weeds, especially if you are selling during the colder months. Spend half an hour every week pulling up any new weeds that have appeared and remember never to put them in your composter as they will spread in no time at all. 
Lawn Care
Nothing says well kept more than a freshly cut and manicured lawn. If you let your lawn get too overgrown, it will damage the roots and result in an unhealthy looking patch of grass. Keeping it regularly moved, trimmed, and aerated will produce lush green grass that looks amazing. 
If you are happy to go that extra mile, why not considering rolling the lawn once it is mowed to get that beautiful, striped finish that oozes style and class? It will not take too much of your time, but it will provide the impact you want and the feel of luxury that will help to sell your house. 
Outdoor Spa
With so many people experiencing stress like never before, an outdoor spa may be the perfect selling point you need to get your property off the market quickly. If you have a hot tub, then this is a great start, and if not, there are a wide range of hot tubs available for all price ranges. 
Invest in some lounger chairs and an outdoor seating area so that your mini-spa will look inviting and relaxing. You need to get prospective buyers to feel like your home would make an ideal choice for their next home and appeal to their need for rest and relaxation will certainly help you achieve sales success. Make sure you look at whatspa.co.uk for the latest guidance on buying a hot tub. 
Invest In Quality Plants
The most attractive gardens are often the ones with well-established plants that are appropriately maintained and in good health. If your garden looks a bit sparse then buying high-quality plants is the quick fix you need. 
Select a range of heights and colours so that you can draw the interest of buyers with plenty of different plant species. Plant them carefully and look after them with regular watering and feeding so that they are in their prime when people come to view the property. See the RHS site for more information on buying the correct plants from garden centres. 
Taking the time to look at your garden from the perspective of a viewer will give you the insight you need to update, upgrade and tidy your outdoor space. If you can show potential buyers how the garden can be an extension of the house, then you are far more likely to improve the value of the house and sell it quickly, ready to move on to your next adventure.