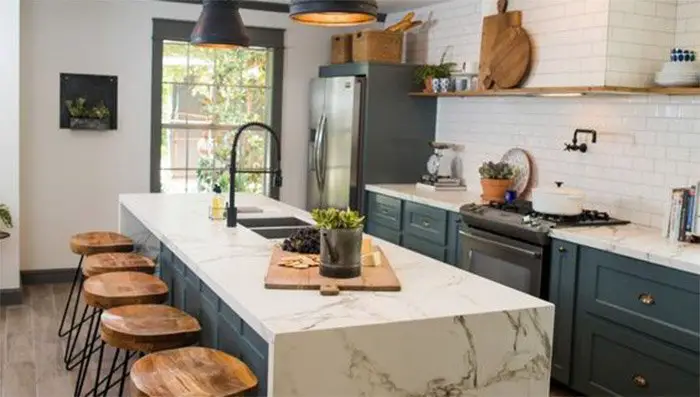 The kitchen is a space where people enjoy delicious meals and socialize with their family after a long day or have guests over for the holidays. For almost every family the kitchen is one of the most high-traffic areas of the home so it should be decorative but also functional. Discover exciting new ways to change the look of your kitchen while not changing its purpose.
1. Cabinets
One of the first things you should consider when updating your kitchen is your cabinets. Are they outdated? If you're unsure what cabinets are considered trendy or which style would match best in your kitchen you can hire an expert to give you his/her advice on the particular material and style cabinet that would complement your kitchen. Professionals in the cabinet industry understand the rising trends in cabinetry and know which cabinets work well in each type of kitchen.
Cabinet trends seem to be heading for transparency. Glass and other see-through materials have become more and more popular in regards to cabinetry. People love being able to see exactly what they need before they even open the door. It also helps to make the space appear more open and airy. Since people typically enjoy large and spacious kitchens, using transparent methods for your cabinets is an excellent decision.
However, there's nothing wrong with standard wood either. They're aesthetically appealing and very durable. They are guaranteed to withstand harsh conditions and last you a long time. If you want cabinets with some color you should play around with painted wood. A light grey or blue can offer a cooling and soothing aesthetic for your kitchen. Coupled with the right decorations and wall color and you can have a gorgeous and inviting kitchen.
2. Countertop
Perhaps one of the best ways you can make the kitchen more appealing is to invest in a stunning countertop. Natural stone counters, such as granite, marble and quartz are all good options for your kitchen. Granite is a popular material due to its gorgeous look and high tolerance for busy areas, such as the kitchen. In addition, the cost is usually quite affordable and there are various colors of this stone available. It's smart to invest in a granite countertop since they are very popular and will be able to stay in good condition for several years.
However, if granite doesn't appeal to you, you can also consider a marble or quartz countertop. These materials are also cost-effective since they're durable and easy to maintain. A simple cleaning is typically all they need to look aesthetically appealing. Marble and quartz also come in various colors depending on your kitchen design and personal design preferences. From bold, white marble to dark or soft quartz, you can create a modern and sleek kitchen with these materials.
3. Lighting
Another aspect of the cooking area you should consider is the lighting. You need lighting that's not only trending but also very functional and will keep your kitchen well lit as you cook or socialize with guests. You can easily add in some recessed lights to make sure that you receive the amount of brightness you desire. Another cool feature that you might consider is installing lights inside and under your cabinets. This allows you to easily see what is inside of the cabinet and keep the preparation areas below the cabinets also brightly lit.
In addition to cabinet lighting it's best to have some gorgeous light fixtures and some natural light shining in to your kitchen as well. You can install a skylight in your kitchen or have large spacious windows that will automatically bring the sunshine into your room during the day.
Lighting not only makes the kitchen more functional but it also adds a warmer and more inviting vibe to it as well. People are more prone to want to spend time in a room that's light and airy then no one that's dark and seems deserted. Since the kitchen is a place where you can connect with your family and friends, the right mood should be set.
4. Flooring
A gorgeous kitchen needs beautiful flooring that complements the room and makes it feel cozy and inviting. Depending on your budget and design preferences, you can consider hardwood flooring or porcelain. Each of these materials are very eye-catching and will add some warmth to your space. Also, hardwood and porcelain are extremely durable, easy to clean and very easy to care for. When choosing your flooring it's important to ensure that is matches the rest of your kitchen, such as your countertop and is something you ultimately enjoy.
5. Appliances
To make your kitchen fully functional you should invest in high quality appliances. You don't need to have all stainless steel appliances however, you should choose brands that have a good reputation and are known to last a while. Also, you should consider the size of your kitchen and its design before purchasing any appliances. It's very important to make sure all of your appliances properly fit in your kitchen so you can easily walk around and do all your daily tasks without any obstructions.
Due to the latest technology, there's several appliances that now come equipped with smart technology and allow you to see what's in your fridge without opening it or automatically start your dishwasher. If these are features that you find very desirable for your kitchen you should plan your budget ahead of time so you can purchase them and create your dream kitchen.
With some planning and help from home design professionals you can easily update the look and feel of your kitchen. A gorgeous kitchen doesn't only make it more enticing for you to cook or entertain, it also can increase your home value. You shouldn't have to settle for an ordinary or outdated kitchen, you should have a kitchen that's stunning and you're proud to show off to guests.