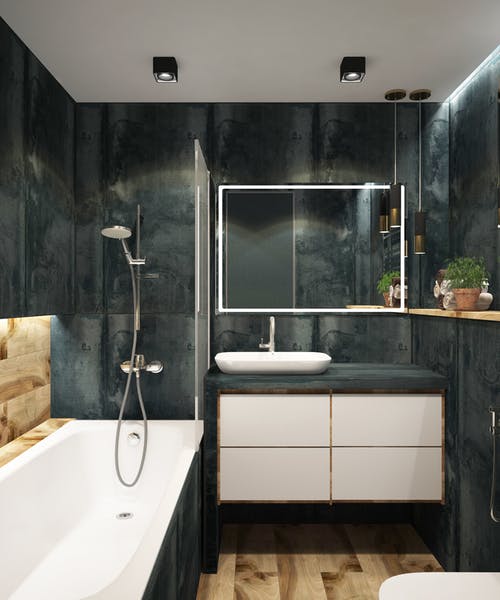 At one point in your life, especially when you are a homeowner, among the things that you will need to ensure done are bathroom renovations, more so when you need to maintain the high value of your bathroom and the entire house, whether yours is a small bathroom or a large space.
One of the best ways to get through your bathroom renovation is by designing it. If you have too little time or money, you can also choose to install accessories that will give your bathroom a new feel. By adding tiles, wall paint, furniture indoors, and other bathroom decor, you can succeed in your bathroom renovations in no time.
By the end of this piece on bathroom renovations, you will look at the greatest examples of beautiful bathroom renovation projects; plus as bonus content, you will also glimpse the bathroom decor trends in the year 2021 and beyond and so much more. Ace your bathroom design today. Read on. 
Why You Should Do Bathroom Renovation
Why should you never neglect your bathroom renovations? Simple. Your bathroom is your private space, and it will be a nuisance to see the bathroom not in perfect condition, whether it is about your shower, the bathtub, the decor, the storage, the window, or the lighting, among many others.
First, practically speaking, you will be fixing all existing problems in the room, whether this is about the tile, the toilet, the fixtures or the sink. Second, renovating your bathroom also gives you more storage space. Third, you can upgrade the bathroom design, whether you want a dark theme, a fun style, a vintage appeal, or a contemporary look for your bathroom.
When you are offering your property for sale, to create the agenda for renovating the bathroom according to your personality or the personality of your buyer increases the value for your home for resale. Furthermore, these projects also add functionality to your bathroom furnishings, whether the bathroom mirror, the floor, or the table.
Installing new furnishings such as the countertop, faucets, or decorative vase will improve the energy efficiency of the bathroom. Plus, with these home renovations, you tend to make your bathroom safer to use, giving every homeowner the bathroom of their dreams.
Best Examples Of Beautiful Bathroom Renovation Projects
Let us jump into the main objective of our discussion. Right now, you might either be looking for bathroom decor ideas or looking at renovating your bathroom one day in the future. Whether your goals are to make small upgrades in your small space, opt for a total overhaul, or thinking that renovating your bathroom will impact the ambience of your home, you are on the right page. We are more than willing to share with you tips and tricks on renovating your bathroom, whether this is about your walk in shower, your counter space, or your double vanity, plus more.
Like renovating your kitchens, perhaps enhancing their visual interest, this private space takes the topmost priority when it comes to space remodelling. After learning the best ideas for your new bathroom design, perhaps adding finishing touches, you will need to choose brands for your furnishings.
We have looked far and wide to offer you inspiration and luxury ideas for giving your bathroom the elegant personality it deserves. Your cool bathroom is now within your reach, from crisp additions to elements that take a cue from art.
1. Enhancing The Shower Area
Turn your shower area from a bathroom and shower combination with limited vanity space that makes the room feel a little bit cramped to installing a double vanity and extra storage that free up the space. This also adds a contemporary look that paves the way for a brighter ambience.
2. Installing A Marble Masterpiece
If you aim for a luxury appeal in your bathroom, you might want to use marble stone for the tubs or the table that carries the sink.
3. Improving The Flooring
Plain and simple floor areas do well when it is according to the theme of the space. However, if it looks too plain it is boring, it is time to make the switch. You can use a set of tiles with the colours of black, grey and white, forming a hexagonal pattern.
4. Vintage-Inspired Bathtub
Let us turn to the bathtub this time. Add vintage-inspired chair and footstool near the bathtub, plus giving the tub and the entire area more brightness with nice lighting.
5. The Power Of Double Vanity
Single mirrors and sinks are out, making way for the double vanity. You can even add cabinets for stowing toiletries, thus freeing up the space with your countertop.
6. Adding Windows Is Adding Luxury
Add windows near the bathtub to offer you with utmost comfort or views of the outside without infiltrating your privacy. You can listen to the waves if your space is beachside.
7. Introduce Tiling To Various Areas
White, square tiles are traditional yet are not good when you want to increase the value of your spaces. Transform boring into gorgeous artworks, with tiling of hues of black, white, green, and grey, or actually anything according to your bathroom's theme.
8. Paint The Walls, Include A Rug
There are times when painting the walls is all you need to make the difference, whether you want sleek or vibrant shades. Add a rug to soften the bathing experience upon leaving the bath area.
9. Revolutionize That Shower Space
Rectangular showers are so common they can be boring. One of the ideas you can implement for your bath area are showers with coloured archways and sections that protect the rest of the area from the steam. Some do not like the steam covering the bathroom mirror after they take a bath.
10. Travertine Walls
When it comes to walls, the tip is to introduce travertine. Pair them with stone flooring for the overall look. You can even add vintage-inspired light fixtures and collage tones for a mesmerizing space.
Any of these bathroom design ideas will turn your spaces from bland to magnificent.
Bathroom Decor Trends In 2021, 2022, And Beyond
Here are the bathroom decor trends you should not miss out on, especially when renovating your bathrooms now:
Vanities that give a floating look
Large-format tiles on the wall
Back-lit bathroom mirrors and cabinets
Tubs that save space
Warm colours done with durable paints
Countertops from quartz materials
Smart bathroom furnishings like toilets
Heated floors and tiles that look like wooden
Take Your Interior Design To A Whole New Level
Right at this phase, you are more than ready to renovate your bathroom. From the preference to use natural light or adding modern fixes to the bathroom, having this part of the house renovated is inevitable. However, after completing the renovation, perhaps adding natural materials or fixing the rounded corners, the advantages are limitless.
Whether it is about doing a complete renovation or changing just one aspect of the bathroom, for one, the clean lines or the shower, you will need to get started right. We hope this article gave you a general idea of what needs changing, recommended more so for those who do not know exactly what to do. Save time and resources consulting renovation ideas that are also according to trend. Whatever your goals are, the designs you learned here shall offer you a bathroom that satisfies the needs of the whole family.