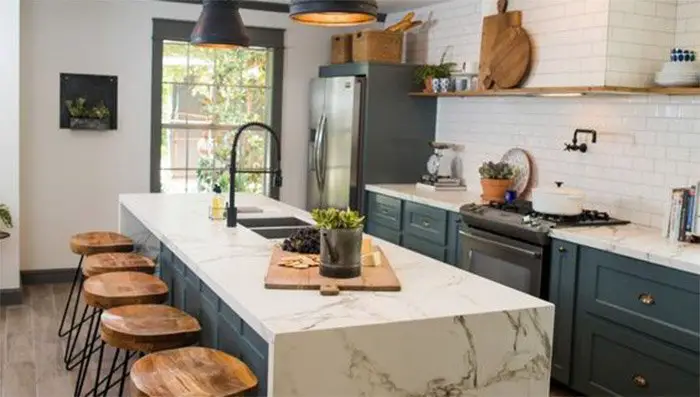 Whether you're planning a complete refit, or just sprucing up your existing one, taking the time to get the right décor will make all the difference to your dream kitchen. With the kitchen at the heart of the home, we think it's worth spending time getting your vision right. Choosing the right colour décor, tiles, splashbacks, shelving and lighting can really take your kitchen up a notch. We are so excited to share our tips with you.
Read on for some fabulous ideas to make your amazing dream kitchen a reality, provided by specialist writer Dakota Murphey – an online commentator focused specifically in the designs of Classic Kitchen and Bathrooms for a few specialist companies in South East England.
Neutral zones
If muted colours are your thing, and décor with bright splashes of colour doesn't appeal, play with neutral tones to give a depth and warmth to your kitchen makeover. It's easy to think of neutrals as boring, but think again. Neutrals come in so many shades. The conventional way to make an interior space look good without much risk is to take the tones up from floor to ceiling. A dark floor, medium colours for walls and a light ceiling combined gives a natural feel.
Choose your neutrals well and they'll be very pleasing to the eye. Many warm neutrals change with the light, switching from warm hues to fresh and bright accents. Fail-safe neutrals can warm or cool a room. And depending on the shade you choose, your neutral pick can add colour to your kitchen theme without overwhelming your understated style.
Warm greys have been on trend for a while now, and they look set to stay. Muted grey is a clean and sophisticated choice. Stone and grey colours really do stand the test of time. Whites with a greyish tone look great with bright white woodwork and trim.
Don't rule out neutrals with a pinkish hue. They can really warm a cold room and used on the ceiling reflects flatteringly. Pink and gold are an opulent match and scream girly elegance. Add a crystal chandelier and your girlfriends will be tweeting about it. But if pink is a definite no-no, wool-inspired neutrals won't turn all girly on you.
A splash of colour
If you're used to playing safe with neutral décor, embracing a bold colour can feel a little disconcerting. Especially if you've spent thousands on beautiful new neutral kitchen cabinets and surfaces. But remember, appliances and décor can easily be changed. So don't be afraid to go bold. If you're taking this brief to its limits be careful not to overdo it. Often one wall makes enough of a statement when using bold colours.
If you've made the decision to take your kitchen into a daring new colour zone, keep your accessories in the same colour or white. Too many colours creates a visual commotion.
If you're stuck on which colour to choose, take a cue from your clothes. You must have a favourite colour (even if you're not aware of it). If the splashes of colour in your wardrobe are bright blue, go for the same in your kitchen décor. Or if citrusy colours are more your thing, consider a bright orange, lime green or daffodil yellow.
Your splash of colour doesn't have to be on the walls. Kitchen appliances come in funky colours, or turn one of your freestanding furniture pieces into a bright accent.
Black and white
Black isn't for the faint-hearted, but it does add a bold statement in any room. You have to be brave to add accents of black, but do it right and you won't be disappointed. Black and white checkered décor can create a stylish retro look and it definitely makes a graphic statement. Don't overdo it. Stick to the one wall rule.
Patterned tiles
Incorporating patterned tiles as a splashback above your cooker, or around your sink area is another way to add an interesting feature to your dream kitchen. Tile design can really give your kitchen a unique and interesting feel. Running a tile splashback up to the ceiling creates a real French bistro look.
There's so much you can add to a kitchen makeover with tiles. Harlequin patterns add a playful touch. Rough-hewn terracotta tiles can mimic an accent brick wall. From dazzling and dramatic black and silver works of art to simple muted palettes, the kitchen is a splendid space for a tile display. It's a great way to add a pop of colour too.
Coloured glass
Coloured glass splashbacks are another great way of bringing colour to your kitchen, but work equally well in neutral tones. Single sheet glass splashbacks add seamless style and can make your kitchen look bigger. Stained glass cabinet doors don't have to be traditional. Funky designs with interior cabinet lighting look fabulous.
Love your lighting
Lighting can dramatically alter the mood of your kitchen, so if your kitchen space is also your entertaining space you'll want to get this absolutely nailed. Adding several layers of lighting and incorporating dimmer switches will give you flexibility. You'll be able to use bright light when you're cooking and switch to a more ambient mood when you are chilling with family and friends.
Use lighting to differentiate the kitchen and dining zones. Statement lighting over islands or dining tables sings fabulous. Position pendant lighting over key areas. Multi-level lighting adds an interesting focal point. Layer lights in shelves and plinths. Add under-cabinet lighting (your amazing splashbacks will be beautifully highlighted). Go crazy with the lighting to brighten the room and illuminate attractive features. Don't be afraid to make a bold statement. If you've always wanted a chandelier, why not bring it to the kitchen.
If you are going for a complete kitchen redesign, don't leave the lighting scheme until last. Lighting will influence the colours and surfaces you choose. Invest in attractive light fittings and you won't regret it.
Quirky shelving
If you're short of cupboard space, an open shelving option doesn't have to be straightforward. From contemporary box shelves to vintage wall cabinets and cool designer freestanding metal artworks, your shelving can add a quirky touch to any kitchen space. And just because you have the luxury of plenty of cabinets it doesn't mean you can't add some shelving anyway as a decorative feature. Wallpapering behind some of the shelves can add a quirkiness to more conventional units.
Sometimes it's the small finishing details that make your dream kitchen a joy to use. Jars of ingredients on open shelving are immensely satisfying to the eye.
Take your favourite tips and run with them. We hope your dream kitchen décor is delightfully dreamy.