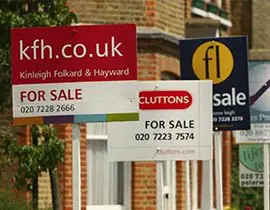 Let's Explore Property Selling Methods Away from the World of Estate Agents
When selling property, the vast majority of people will start in one place and one place only – by contacting their local estate agent.
Now, there's nothing wrong with going through estate agents, but there tends to be two problems that people have with them. That they're overpriced, and don't do enough for it.
Estate agents may have the gift of the gab, sure, but their fees can be astronomical and can end up resulting in the sale of your home being more expensive than perhaps even the buying of it was.
Furthermore, you're not their only client. They have a list of people to deal with and manage, so although selling your property is your own top priority, it's not necessarily theirs. Although good agents will do their best for you, it can still be extremely frustrating when you find yourself paying first class prices for a less than first class service.
Which begs the question – can you actually sell your house for free? Well, today we're going to explore some property selling methods away from the world of estate agents.
Quick Sale Companies
The first, and most obvious way of selling your property without a traditional estate agent is by going through a quick sale company.
Now, over the years, options like using a cash buying company have often been overlooked because of some scamming organisations that have given the industry a bad name.
These companies advertise their ability to be able to buy properties quickly – in as little as seven to ten days – for cash. They'll also value your property for free in the first place, making the overall process quick, easy and giving you the ability to do it completely estate agent free.
The price you'll have to pay for a quick sale, is your property being bought for up to 25% less than the market value.
Furthermore, as we previously mentioned, there are scammers out there who have given the genuine companies a bad name. These companies pose as genuine organisations, and yet have been accused of costing homeowners tens of thousands of pounds when it comes to selling their property.
What we suggest, is to do your research if this is an option that you're interested in. If a company is trustworthy, usually they'll be regulated by the NAPB (National Association of Property Buying). This means that they'll have to follow a certain set of rules and regulations that are put forward by the NAPB themselves. Read the small print, and choose a company that's well reputed. 
Get a Free Valuation
You'd be surprised at how many companies offer free valuations for property that are easily accessible online. You can gather several of these in a short space of time, and therefore it's easy enough to figure out an average.
Of course, this is just a starting point – but it's a good one. Usually, people approach estate agents straight away when the free option is quite literally staring them in the face. 
Go Through an Online Company
Although a lot of estate agents are hybrid companies of being in person and online, nowadays there are several companies that exclusively use the internet in order to sell property.
Now, it's not going to be free realistically. In terms of using these companies, there are usually a variety of packages available. The standard packages are the most reasonably priced, but if you want to give yourself a bigger chance of selling quickly, you might want to invest in a more exclusive package.
As many as 90% of buyers admit to their first port of call when property browsing being the internet, so if you do have to spend the cash in order to sell, think of it as an investment. It's far cheaper than paying an estate agent, anyway. 
Use Social Media
Finally, you could very simply use the world of social media to advertise your property. More and more people are doing it all the time. There was even a woman in the UK who conducted property viewings on a live feed and accepted offers through her inbox. Crazy, we know.
This is an extreme example, but if you have good quality images of your property and a completed valuation, then it's perfectly possible to advertise it on social media for free. There are even property forums if you want to target an audience directly.
Overall, we would advise exercising caution when using social media to advertise your home – but it can be an extremely useful marketing technique. Plus, it's free. Win-win!