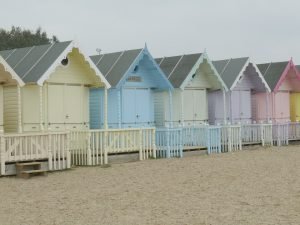 There was an interesting article in The Telegraph this morning about beach huts outperforming London property!
Despite the fact that they have no bathroom, they have risen more in value in the past two years than prime London property.
A beach hut in Dorset recently went up for sale for £240,000 and is now sold. It was on the market with Denisons Estate Agents and they appear to have 6 others that have recently sold for between an eye-watering £185K and £240,000.  Here is one on the market for £225,000.
They really are unbelievable prices for a hut with no running water and no electricity.
The Telegraph reports that all beach huts differ in exact location, condition and quality, so comparisons can't be entirely accurate. But there is a long – if anecdotal – record of hut prices which stretches back decades among their fans. The Mudeford huts, for instance, are claimed to have been sold in the 1980s for £7,000.
That would mean their value has increased by over 3,100pc in four decades.
Now look at comparable house prices. Using Nationwide Building Society's data for the South West – there is no county breakdown – a property bought in 1984 for £7,000 would be today worth £44,000, giving a mere increase of 541pc. Nationwide's data is based on the average homes on which it lent mortgages over the period.
Greater London house prices were up by more – 780pc for those four decades – still lagging far behind the meteoric rise of hut prices.