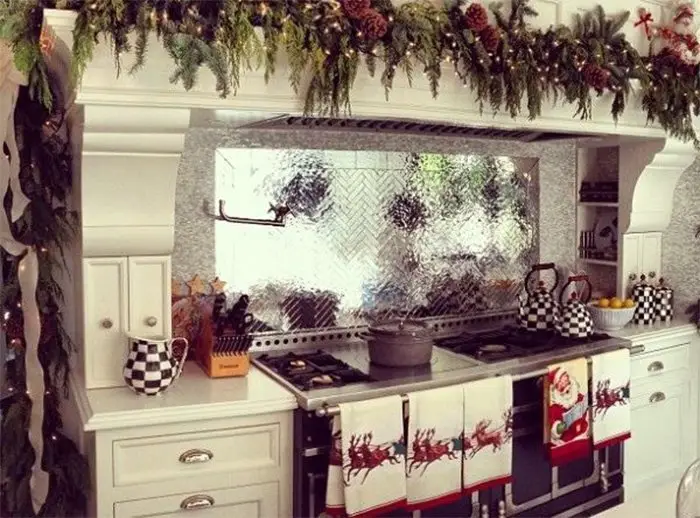 Grand entrance halls and drawing rooms generally get the most attention when it comes to Christmas decorations. There's no reason why your kitchen should go unnoticed. For many families it's the hub of the home, so it makes sense to give it just as much attention when it comes to Christmas.
You've spent so much time giving your kitchen charm. Why not use Christmas as an excuse to show-off your handcrafted interior? Christmas is the perfect time to introduce a steady stream of guests to your home. As well as the imposing Christmas tree in your drawing room for guests to admire, why not bring some opulence and grandeur to your kitchen.
It's easy to forget the kitchen quarters. Unless you have a fully staffed home, it's likely at least some of your guests will at some point end up in the kitchen. Bring your muted tones to life, using a collection of lighting, fabrics and flowers. It's easy to underplay Christmas decorations in the kitchen when the room makes such a beautiful style statement on its own. Don't be put off, stylishly done, your kitchen will maintain its elegance, but join in the Christmas vibe.
Here, Mike James is sharing with you his fabulous styling ideas, inspired and devised with Artichoke Ltd. to make your country kitchen a favourite room this Christmas.
1.      A kitsch kitchen tree
Is there a suitable place for a tree? You don't want one that will overshadow your drawing room centrepiece. Keep the tree on the smaller side and the decorations simple. Some lights and small decorations, or even just lights are all this tree needs. Match up minimal elegance or choose decorations to bring out the colour theme in your kitchen. It will depend on the exact style of your kitchen as to what works best.
A small undecorated tree in an English heritage pail also looks great tucked into the corner of one of your kitchen worktops.
2.      Fabulous Fir Garlands
Basic fir garlands look the part and add a festive vibe to any room. Keep it simple with just the fir, or interweave some festoon lights. Drape over an inglenook mantelpiece or place on top of those bespoke wall-mounted cabinets.
3.      Dress up your windows
Hang wreaths in your kitchen window using luxury ribbons. A silk baby's breath wreath is gorgeous and effective if you want a change from standard Nordic fir. Or feather wreaths bring understated glamour if your kitchen design can handle it.
4.      A warm winter ambience
Classic candles in storm lanterns and mason jars bring a warm winter ambience to any home. Hurricane lanterns in or around the fireplace also bring an elegant touch and can be purchased in all shapes and sizes.
5.      Bring some sparkle to your task lighting
Don't overlook the kitchen when it comes to fairy lights. Use the extra lighting to highlight the best features. Dress up a dresser or add tastefully to ceiling beams. Copper coloured star-shaped frames adorned with mini fairy lights bring a more contemporary feel.
6.      Simply stunning power flowers
No room is complete without a floral display. Keep the festive touch in your country kitchen dazzling by choosing white amaryllis. These over-the-top, fresh white flowers, along with some greenery, create a surprisingly wintry effect. These beauties make a stunning style statement.
If you're all set on red, amaryllis come in that shade too. Or a simple jug kettle in cream or white enamel lends itself well to a spray of red Christmas berries.
White hydrangeas (also known as Christmas roses) in stubby vases fit perfectly into the festive theme.
7.      The humble tree branch
Arrange branches in a large glass vase, and adorn with gold painted walnuts and chandelier prisms. The DIY branch brings a natural element to your kitchen décor.
8.      The sweet smell of Christmas
Nothing says Christmas more than the cosy, friendly scent of cinnamon, clove and orange. Scented candles are the most obvious choice to create a seasonal fragrant home. A festive simmer pot on the stove also does the trick, and will fill your home with nostalgic, happy scents. Your guests won't want to leave.
Place quartered apples and oranges, cinnamon sticks and cloves into a large saucepan filled with water. Bring to the boil, turn down to a simmer and wait to be delighted.
9.      The weather outside is frightful
If there are trees just outside your kitchen window, hang out some bird seed ornaments. There's nothing more festive than spotting a robin from your kitchen window, and he'll be glad of the treat.