With the winter months just around the corner, now is the perfect time to start thinking about preparing your home in advance. After all, the last thing anyone wants when the weather is freezing outside is a broken boiler or a water leakage problem.
In order to avoid these issues, you are going to need to 'winter proof' your home by using a variety of tips and tricks. Whether it be keeping on top of your home's heating, keeping your gutters clear, or keeping potential thieves at bay, we are here to help.
Using our helpful hints below, we aim to ensure that your property will stay well maintained over the coming winter months.
Gutter your gutters
While the falling autumn leaves may make your home look lovely and picturesque, they can also be a real nuisance when left to pile up. In fact, blocked gutters can be a fairly expensive thing to sort out, so it's important to do what you can in advance to prevent gutter-related issues occurring over the winter months.
In order to clear your gutters, you will need a ladder and a suitable tool to remove the leaves. However, this job is not to be taken lightly, as working at height can be incredibly dangerous. If you don't feel comfortable enough to do this yourself, think about hiring a professional to clear the gutters for you.
Beware of burglars
If you decide to go away over winter, the darker evenings could entice burglars and potential thieves to your home. At Christmas especially, many people leave their homes to go and see family, providing wannabe thieves with ample opportunity to burgle properties.
To guard against this, you should think about investing in thieve deterrents – and no, I don't mean like the ones used in Home Alone.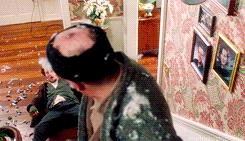 Burglar alarms can make a big difference to the safety and security of your home, alerting you right away if somebody breaks in. Similarly, simple actions like keeping expensive items out of sight or making sure your light motion sensors are working can also be highly effective.
Bleeding your radiators
If your home feels cold even though the heating is on and seems to be working, you might need to bleed your radiators. Using a specialist key, the process for this involves releasing any trapped air within the radiator itself to ensure that each part of the radiator warms up efficiently. Take a look at British Gas' helpful video below:  
You should be able to tell if your radiator needs bleeding by simply feeling it when the heating is on. If it feels hot at the bottom and colder at the top, then it needs bleeding. If it doesn't feel hot at all, you'll need to ask a professional for their advice.
Service your boiler
Generally speaking, it's a good idea to get your boiler serviced once a year. When it's out of action in the summer months, if the system has any underlying issues before being switched off, these will go undetected until it's needed again. Therefore, by getting your boiler checked, you can rest easy knowing that it won't fail over the colder months.
Check your insulation
There's nothing more annoying than spending a lot of money to heat your home only to find that a lot of heat has been escaping through gaps in the insulation.
To ensure this doesn't happen to you, you should check all the areas of insulation within your property, starting with the attic. If the insulation is level with or below the attic floor joists, then you should think about adding some more to prevent heat from escaping.
Inspect your pipes
One of the worst things to encounter over the winter months is a broken or burst pipe, since they can easily become frozen or prevent your heating system from functioning correctly. However, there are a number of ways of ensuring this doesn't happen to you.
Whether you choose to simply add some insulating pipe lagging around each exposed pipe, or keep your heating on continuously at a temperature above 12oC, each of these two methods can be highly effective at preventing pipes from breaking, bursting or