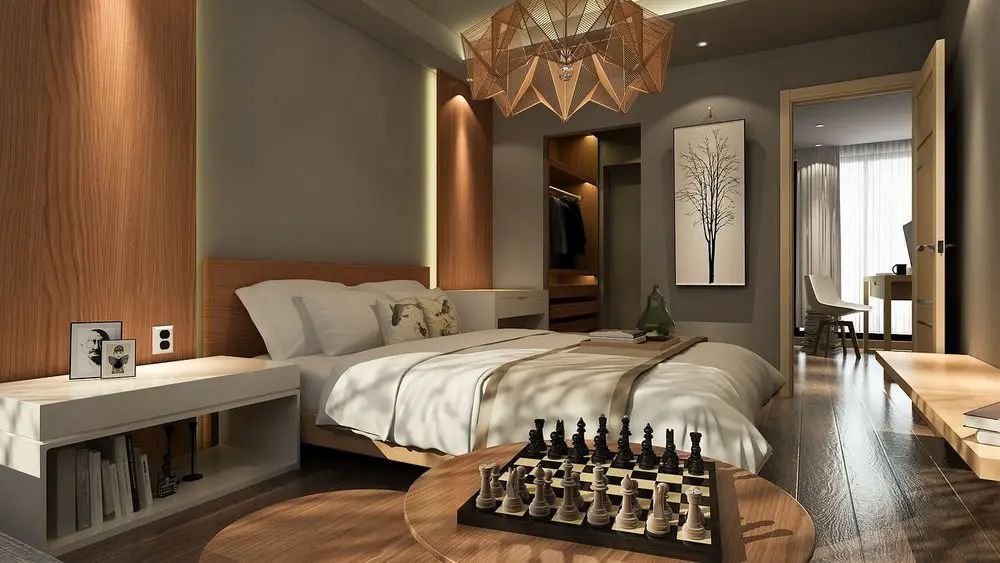 When it comes to decorating and furnishing your home, consider the quality of the light before anything else. Nobody wants dark and dingy rooms – we all prefer bright and welcoming spaces flooded with natural daylight. However, if your bedroom or living room faces north, it will get no direct sunlight, and the little natural light that does come in may feel cold. What to do?
Luckily, interior designers are used to decorating light challenged rooms and have a few tricks up their sleeves to maximise the potential of any interior space, able to turn even the pokiest of rooms into warm and inviting places in our homes. The secret is to introduce light – and lots of it.  The use of lighting is particularly important when you are reading, try to get the right reading light for your room.
Make the most of natural light
Even if the room in question only has a small window, some daylight is bound to find its way in, so make the most of what you have. Remove any obstructions that could block the light – clutter and pot plants on the window sill, net curtains and heavy window dressings should all go. Instead, go for a simple blind or floaty voile curtains to enhance the feeling of light and space.
Decorate the room in light colours, ideally using white, cream or a light pastel colour scheme for the walls; dark dramatic colours will literally soak up the incoming light. Add a feature mirror to bounce the existing light around the room, and fill the room with light coloured furniture. This is not the place for dark, heavy items.
Install daylight bulbs
If there's not enough natural light coming in the room, there's a simple answer: cheat by buying yourself some faux sunshine! Daylight bulbs are designed to provide a similar level of brightness to natural daylight and their intensity varies according to colour temperature and Colour Rendering Index (CRI). To brighten up a dingy room, choose a colour temperature of 6000-6500K and a CRI of about 80%. Standard daylight bulbs come in many different types including fluorescent tubes and spiral bulbs, LED bulbs and incandescent daylight bulbs.
You may have come across the term 'full spectrum lights' – a type of daylight bulb that is often recommended for people suffering from Seasonal Affective Disorder (SAD) or to light a windowless room. More expensive than regular daylight bulbs, these are also a good solution if you need perfect colour rendition (up to 96%).
Use a layered lighting approach
Adding artificial lighting can really improve the look and feel of a dingy room provided it's done right – a solitary ceiling light just won't do. Variety is key, so take a leaf out of a lighting designer's book and use a layered approach.
As a minimum requirement, aim for a mix of ambient lighting (for general illumination) and task lighting (reading or desk lights, for example) to brighten up your north facing room without the light either feeling flat or fake. Opt for a bright white bulb for a ceiling or pendant light that will illuminate the space properly, then step it down for floor or table lamps, using softer, warmer hues to create that all important feeling of cosiness.
Finally, to make the room feel airier than it really is, consider using wall mounted or freestanding uplighters to help bounce light towards your (white painted) ceiling and reflect it straight back into the room.
Rethink your light and lamp shades
It doesn't take a genius to work out that the clearer and simpler your shades are, the more light will find its way into the room. Light shades are designed to diffuse the glare of the naked light bulb and are available in a wide range of colours and styles – but their level of transparency will influence how the light disperses through the room. Metal pendant shades, fabric lampshades and colourful sculpture designs may all look amazing, but they do unfortunately trap some of the light that you so desperately need in the room.
Make every effort to maximise the light available in the room. Instead of traditional shades, you could choose fixed/recessed lights or funky spotlights to wash your walls with light or draw attention to specific decorative or functional areas. Or opt for minimalist clear glass shades or state-of-the-art Edison bulbs – beautiful exposed filament bulbs that are bang on trend at the moment.
Light up your cupboards
The lack of light in a north facing room affects every area of the room, including your cupboards and cabinets. How irritating is it to open a cupboard door or drawer only to find that it's hard to tell one item from the next? Luckily, it doesn't have to be this way.
Keeping dark spaces well lit is a doddle with the help of a few cupboard lights. These are illuminating battery powered LED push lights that can be fitted in a jiffy – no wires or cabling required – or fast reacting sensor cupboard lights that illuminate automatically. Fit LED lighting strips to the inside top of your wardrobe, cupboard or storage unit, or install track lighting near the opened cupboard door, and see your stored items a clearly as in plain daylight.