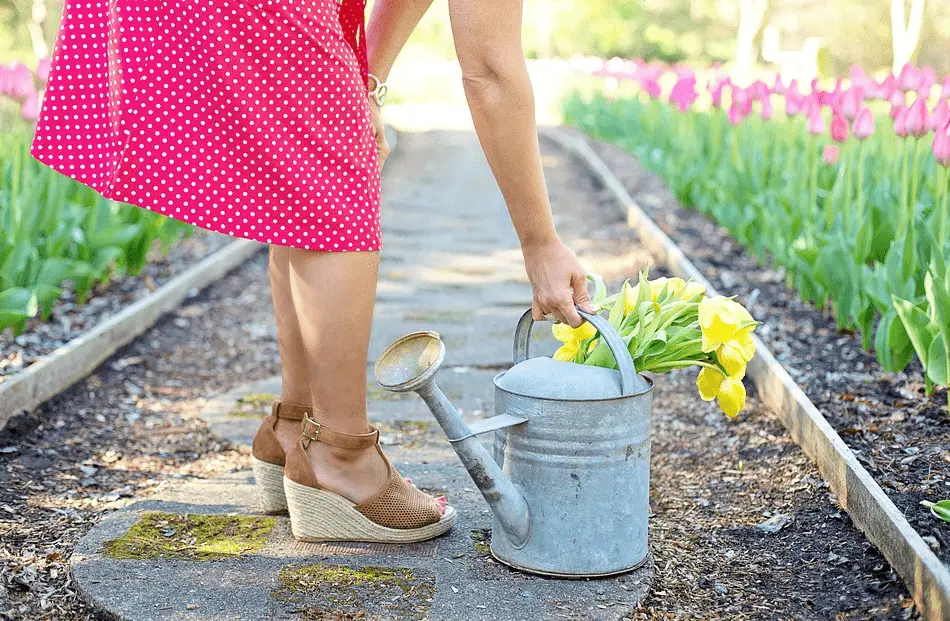 Haven't we all ever dreamt of a huge residence with a wonderful, well-kept garden, a pool, jacuzzi, and deck chairs? Or at least a cozy corner in your villa's garden with spacious outdoor sofas and stone over for bread and pizza? Yeah, the luxurious vision itself puts clouds around my head. 
Unfortunately, the moment I open my eyes in my very own garden… Well, the reality is overwhelming. There's no giant residence, no stone oven, no pool, and the garden itself isn't well-kept for sure. Aright, the garden part is my fault, I know. But how can I find some time to take care of the backyard if I hardly have the energy to get my kids and their rooms under control? 
Time to change that! We deserve to hide from all the daily worries and to relax in a pleasant place. Why not turn our backyards into our small, easily-accessible getaways? In that spirit, I've prepared a simple recipe for your own private paradise! 
The lawn is the first thing that draws people's attention when they're spending time in your backyard. Unfortunately, living in the rainy UK doesn't make it easier to enjoy and maintain your tiny garden. That's why I typed fake grass uk and decided to have my lawn transformed fully! 
Trying to keep the natural grass in your garden alive at all cost is extremely exhausting and actually quite expensive. Artificial lawn is an efficient and comfortable solution to keep your lawn neat all year long, regardless of the weather and other external factors such as unpredictable children and hyperactive pets! 
Installing a pond or a fountain in your garden will brighten it up and is a great opportunity to wake up your creative self. It's not only about digging a whole in the turf and putting layers of plastic bags and stones in the bottom. No, no, no. Become an actual designer of your backyard and go with the flow of your fantasy! 
If you don't have too much space, consider installing an oblong pond connected with the rest of the garden with gravel paths. Another idea would be a tall fountain — maybe with an added bird feeder? Water spots in private gardens are an oasis for the birds in the cities! 
What's more, such water installations have strong calming properties. Watching and listening to even slightly moving water turns off your mind and gives your eyes a highly relaxing spot to focus on. 
Create a Relaxation Corner
You don't need any gigantic space to provide your garden with a cozy nest in one of its corners. All you need to do is to analyse the space carefully and think through your needs and expectations. 
A convertible outdoor sofa and folding garden chairs will save the space for your backyard's daily use and will also secure you in case you decide to throw a garden party! 
Garden furniture usually requires at least partial roofing. Installing two wooden columns and mounting a roof to the wall of your house is not labour-consuming and will give your backyard a nice, shelter-like vibe. There are lots of types of materials that garden furniture could be made from, for example, teak, oak, pine etc.  If you would like to find Teak furniture then search for Teak Garden Furniture UK to find a good supplier. 
Such roofing is a great spot for distribution of various kinds of light — direct light for reading in the evenings and delicate, ambient light in the form of lanterns or strings for outdoor dining parties. 
Home playground doesn't require an enormous space but a careful plan! Personally, I can't imagine my backyard without a garden swing (regardless of the size of a garden!), and my kids demanded a slide with a wooden house on top — unfortunately, we don't have a tree big enough to carry an actual tree house. 
Involve your whole family to designing the garden — make it a big family project! Exchange your ideas, let the kids draw their plans, and come up with the best solutions altogether. Designing and making the plans come true will be a wonderful bonding time for all of you. My kids couldn't be happier when I asked them to design their own playground. Of course, that also taught them what compromises are. 
It doesn't matter what size your backyard is. With a dash of creativity, you can make a real secret garden next to your home. Don't get discouraged too easily and use your imagination!